In a previous life, I served as Chairman of the Board for Ben and Jerry's. It was very important to me that the company change its practices so that we were using fair trade products for the ice cream - coffee, vanilla, chocolate and all the other goodies.
I assumed that in creating fair trade relations with the co-ops and farmers that it would solve the poverty problem. But you know what they say when you make assumptions. Don't get me wrong, I had great intentions but I didn't have an understanding of the full picture.
While purchasing fair trade is important (and I'll be back to discuss that!), it's not the complete solution. The farmers still struggle with los meses flacos (the thin months). What I have learned since being at Heifer is that it is very important to pay attention to the details of impact. We need to have an understanding of the full process, the conditions and the theory of change. Heifer is doing this and this is how we work with the communities to truly work to end hunger and poverty.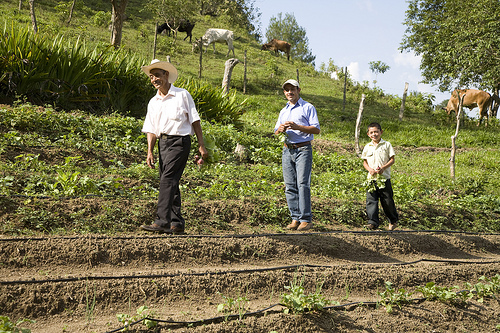 At Heifer, we are working in the coffeelands. Earlier this week we shared on the blog posts about seasonal poverty, a (must see!) short documentary called After the Harvest: Fighting Hunger in the Coffeelands, and also how to choose coffee with a conscience. These posts were in correlation with my colleagues attending a conference in Portland discussing our projects with Green Mountain Coffee and meeting with other organizations working in the same sector.
I see the full cycle now and as I still serve on the board of Ben and Jerry's (although no longer the chairman), I can bring the knowledge and the understanding that I have learned from our work at Heifer. While it's wonderful to have good intentions, you never want to take for granted the impact that you want to achieve.