Story and photos by Knarine Ghazanchyan | Program Coordinator | Heifer Armenia
Translated by Liana Hayrapetyan | Communication and PR Officer | Heifer Armenia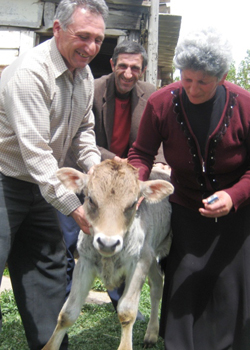 Everyone in Shirakamut village knows, loves and respects Aghasi and Hripsime Kyureghyan, a very friendly, honest and diligent couple. During the devastating earthquake of 1988 Aghasi lost his brothers, sisters and other relatives. For him every single day is now a precious gift from God. He is always very positive and optimistic, and his fellow villagers often say that he is extremely supportive, always ready to lend a helping hand.
Aghasi was born and grew up in Shirakamut, while his wife Hripsime is from the Armavir region of Armenia. They live with their daughters Anahit, 27, and Tatev, 25, their 18-year-old son Marzpet, and Aghasi's 82-year-old mother Shushan. Aghasi and Hripsime are grandparents, as their daughters are married and have one baby each.
The Kyureghyans' barn had been empty since the earthquake that took two cows, two calves and three goats. The family hadn't been able to afford any new animals, but when the partnership of Heifer Armenia and the Armenian Missionary Association of America (AMAA) started the project in their village, they, along with 29 others, received a cow.
From previous experience, the Kyureghyans knew very well that a cow can be the best source of income for a rural family such as theirs. Hripsime and Aghasi were very happy to receive the cow from Heifer, and they named her Maral, which in Armenian means pretty deer. Maral has already delivered twice ­– a female calf last year and bull-calf this year.
"Maral is a very productive cow," Hripsime said, "She gives us more than 15 liters of milk a day. I prepare cheese and we sell it in the local market, which is very profitable. For my family's consumption I prepare butter and curds, which we like very much."
Community group leader Nahapet said, "Aghasi and Hripsime are among our best project participants. They are very successful. This is of course due to their diligence."
Community veterinarian Alina added, "Exactly. But their success is also because of their cow. She is very productive. Aghasi and Hripsime take very good care of their cow and her calves. They set a very good example for the other farmers in the village."
Devotion to the work and diligence never pass unnoticed. Nature always returns the favor for the good you have done. Working hard and investing their hearts in what they do, Aghasi and Hripsime get good results. This is definitely the secret to their success.
Find out how you can be a part of the great changes in Armenia.
Learn how you can be a part of the exciting changes in Armenia through Heifer International.