Story and photos by Niev Pernites-Sambas | Jonathan Sandigio | Rico Locaba | Heifer Central Philippines Team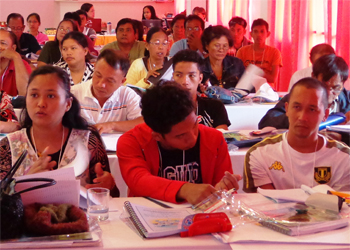 "What we are doing is very good. This will prepare us for hazards that will hit our barangay (island village)," said 72-year-old Alex Matunog, a sentiment shared by the 66 other participants completing the Disaster Risk Reduction (DRR) Assessment and Planning Workshop held September 12-14, 2012.
Matunog, a self-help group (SHG) leader from San Pedro, an island barangay, attended the three-day workshop in Barangay Talisay, in the Central Philippines Region.
The goals for the workshop were for the participants to:
Better understand the DRR concepts, Local Government Unit mandates, Disaster Risk Reduction and Management (DRRM) process and framework based on the Philippines' DRRM Act of 2010.
Determine the degree of disaster risks in their respective barangays through the conduct of actual disaster risk assessment and analysis, particularly hazard identification, hazard characterization, vulnerability assessment and identification of capacity gaps.
Formulate a Barangay DRRM Plan with fund allocation.
Participants were selected to represent the different actors in DRR and DRRM both at the village and municipal level. Of the total participants, 47 came from nine barangays covered by the project co-funded by Heifer International. They were SHG leaders, barangay captains, secretaries, health workers and local peacekeepers. Twelve participants came from different offices of the municipality of Hinunangan such as the Mayor's Office, Department of Interior and Local Government, Social Welfare and Development, engineering, municipal planning, Municipal DRRM and legislative office. The remaining five are from the South Pacific Integrated Area Development Foundation, Inc. (SPIADFI). A representative from Mag-uugmad Foundation, Inc. and Calubian Livelihood Assistance for Development, which are Heifer-Disop funded projects in other areas, were invited to join the workshop to gain advanced knowledge and skills so that they can assist in conducting the same workshop in their own areas in the coming weeks.
The workshop activities were divided into two areas: assessment and planning. The participants were taught to assess and rank hazards, assess vulnerability of elements at risk during a hazard (ie. human, infrastructure and livelihood) and capacity assessment to determine the required capacity to the response to a hazard and the gaps that need to be addressed.
Finally, using a matrix, each of the nine participating barangays drafted their own Barangay DRRM Plan, reflecting their three main areas of concern: preventive, mitigation and preparedness. The plans were then presented, clarifications were made and facilitators shared suggestions for improvement.
In closing, Edgar Bayano, municipal local government operations officer of Hinunangan said, "We have 40 barangays in Hinunangan, eight were already trained on DRRM thanks to Heifer. We still need to train the remaining 32."
Edgar shared the belief that disaster risk reduction should be addressed by coastal municipalities, despite the enactment of the DRRM law almost two years ago.
The workshop was part of the capacity-building activities under the Food Secured and Sustainable Livelihood through Values-Based Development Approach for Small farmers of Hinunangan, Southern Leyte Project, co-funded by Heifer International and DISOP (Organization for International Cooperation on Development Projects), a Belgian NGO. This project is directly implemented by SPIADFI.