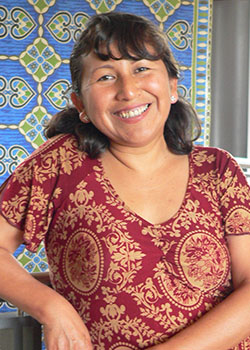 Title: Program Assistant

Location: Peru

When did you start working for Heifer? January 2011

What attracted you to work for Heifer? The fact that Heifer works with sustainable development, which includes economic, social and environmental spheres. Escaping poverty depends on improving food security because one of the causes of poverty is malnutrition. Malnutrition is related to the degree of soil fertility. Poor soil produces low-quality food. To promote animal husbandry under a chain of solidarity is not only expected to improve the availability of the source of animal protein, but also the availability of organic matter for the preparation of organic fertilizer to add to soils with low fertility.
What has been the most memorable experience you have had while working for Heifer?Participating as a volunteer at Heifer Ranch in Perryville, Ark. It is a beautiful place where you can interact with people from different parts of the world, including China, Kenya, South America, North America, Germany and Morocco.

My education includes: I studied agricultural engineering and have a master's degree in agribusiness.

My hobbies include: Reading, karaoke at home and walking.

My family consists of: My parents, brothers and sisters.

Something about me that you might not know: I rely a lot on the promises of the Lord, a God of tender mercies.
What is the best thing about working at Heifer Peru? Working with women's organizations that produce artisan coffee in northern Peru. Besides producing coffee, these women market the surplus from their crops and are very interested in playing leading roles in local economic development. I also enjoy working with the Departmental Association of Rural Women of Puno in southern Peru, who produce garments made of alpaca fiber through the Healthy Homes project. In both regions, the sierra and the jungle, women have a strong desire to improve and adapt to environmental changes. They are responsible for selecting seeds from the field that are resistant to frost, drought and hail.