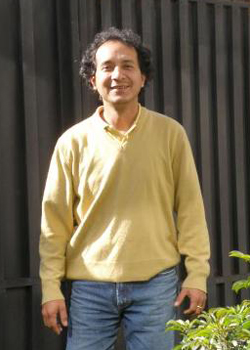 Title: Veterinarian

Location: Heifer Ecuador

When did you start working for Heifer? December 2010

What attracted you to work for Heifer? The opportunity to connect with campesino, indigenous, gatherer, and fishermen organizations.

What has been the most memorable experience you have had while working for Heifer?
Sharing the experience and knowledge of campesino organizations in the dry forests in southwestern Ecuador and northern Peru.
My education includes: Training in rural development and sustainable agriculture, political ecology, human ecology and environmental management.

My hobbies include: Reading and taking care of bonsai trees.

My family consists of: There are five of us: three sons, my wife and me.
Something about me that you might not know: I am a provinciano (or I'm provincial), as they say in Loja, Chazo from Celica. Chazo is a local word meaning a local person who wears a poncho and sombrero and lives in the country. My parents, siblings and I were born in Celica. Due to my father's health problems, we went to live in the city of Loja, where my mother made women's clothing. For this work, they only left us the machine, thread, fabric scraps, an iron and our learned pace or rhythm. We helped sew, iron and deliver the clothes to clients. Those were years of deep personal learning, but we never went hungry, which is something I am very thankful for.

What is the best thing about working at Heifer Peru? The ability to create opportunities for discussion with families and organizations in relation to their issues and those of the environment, always in the perspective of creating alternatives to improve their living conditions.