Story and photos by Knarine Ghazanchyan | Program Coordinator | Heifer Armenia
Translated by Emma Sargsyan | Media Coordinator | Heifer Armenia
Heifer Armenia has been implementing programs in Armenia in partnership with Heifer Poland and the Polish Development Cooperation since 2011. Two study tours were planned for Armenian participants to visit projects in Poland: one for dry fruit processors, the other for milk processors and producers.
Long before the study tours, a number of trainings on dry fruit, milk and cheese processing, as well as milk production, were conducted. These trainings targeted rural farmers, with the most active participants chosen for the study tours to Poland.
I represented Heifer Armenia on the study tour with dry fruit processors, and was accompanied by the president of Lukashin Farmer's Association, Vardkes Davtyan, and the head of the Women's Council of the same association and honey producer, Zaruhi Gevorgyan. Another member and local YES Youth Club Ecology trainer, Norik Zeynalyan, who is a dry-fruit producer under the well-known Sateni trademark, was also among the study tour participants.
Katarzyna Lubczy?ska-Saffell, Heifer Poland project manager, met and guided our group throughout the visit, which included meetings with leading people and organizations and visits to university laboratories, balanced by a dense cultural program including visits to history museums, exhibitions and an annual city celebration in Jozefow.
Jozefow, which became our home for five days, has 200,000 inhabitants and is located in a picturesque countryside. The town was in a celebratory mood, with people from villages all around bringing a wide variety of national dishes and fresh products for the harvest festival, which we were able to experience on our first day.
The following morning business activities began with a visit to an ecological farm in Khandzlowka, where owner Alina Becla warmly greeted us. Becla, along with her husband and three children, organizes the production of dried fruit, berries and tea leaves, in addition to running the family ecotourism business, for those wishing to experience the beauty of living the simple life of a village dweller. Our group was acquainted with the local technology for drying fruit, tasted the tea prepared at the farm, explored the rooms used for ecotourism activities, evaluated products and packaging, and offered comments.
Participants were interested in the timing and process of obtaining the status of producer of eco products, and the monitoring and certification activities that follow. Participants mentioned that this particular study tour was very important in terms of information received and exposure to small farm economies. The afternoon was devoted to cultural activities.
Day three in Poland was another fruitful day, starting with a visit to an organic farm owned by Tomasz Obczansky, a member of The Valley of Ecological Health ecological cluster. This cluster grows eco products such as raspberries, currants and rapeseeds, and prepares oils and natural juices from them. Participants were impressed by the oil processing unit, and learned how it worked. And, of course, the oils tasted excellent. We saw the machinery used to collect the fruit and how the farm gets rid of insects. One of the most impressing things was that each farm uses only those materials approved by the organizations that license eco-farms.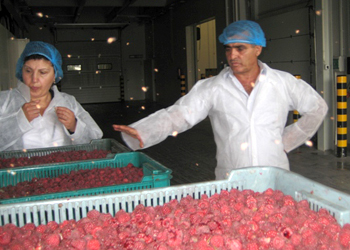 Next, we met with representatives of the BIOFOOD eco-food producers group. We saw how farmers submitted their products, which were evaluated on the spot, sorted, processed, refrigerated and packaged. The final product?frozen berries?was sent to factories to prepare eco-juices, fruit purees and food additives for Poland and beyond.
The fourth day began with an interview at a local radio station, organized by Zigmund Radek, vice president of the PIRE chamber of organic agro-products. We had gathered some impressions during our study tour, and were more than happy to share them with the radio station. Then, we went to Jozefow University, met Zbignew Chernyakowski, Dean of the Agroecology Faculty, and listened to a presentation on the ecological situation in Poland by Agata Tekiela, from the department of plant disease. After the presentation, we saw the university's milk, meat, fruit and crop production and processing machinery, where the students get to know the peculiarities of their future profession. We wished luck and success to the students and staff at the end of our visit.
On the fifth day we returned to Warsaw to visit Heifer International's Poland office. We met with Armenian ambassador to Poland, Ashot Galoyan, where he promised to support the Heifer Poland and Heifer Armenia in our future partnership and endeavors. He also promised to help Armenian producers market their products in the Polish market and support the bilateral partnerships of the two countries.
Last but not the least, we spent some time seeing the Warsaw city center and the Museum of Eastern Carpets, which was created when Teresa Sahakyan, a polish woman, together with her Armenian husband gifted Warsaw with more than 600 carpets. We learned that Armenians are known in Warsaw as very skilled craftsmen, and today around 50,000 Armenians live in Poland. It was a very useful and unforgettable five-day stay in Warsaw.
Thanks to Lubczy?ska-Saffell for making every effort to ensure our delegation felt at home. Poland's Ministry of Foreign Affairs also had an invaluable contribution during this trip and throughout the project, which took the relations between the two countries to a new level. And, of course, our farmers are very thankful to the Heifer offices, both Polish and Armenian, who tailor-made this study tour from beginning to end.
Learn how you can be a part of the exciting changes in Armenia through Heifer International.