Story by Dr. Reuben Koech | PME Coordinator | Heifer Kenya
Rose Were, a Kenyan farmer, marked World Food Day with pomp and color at her home. The celebration's theme was agricultural cooperatives, and more than 400 farmers attended the event on October 16, 2012.

Rose is a member of the Jaribu Uone women's group in the Butula Division. The group was funded by Heifer International in 2005 and became self-sustaining and separated from Heifer in 2010 after five years of successful partnership. The group members have continued their dairy farming and integrated agriculture farming. They are still model farmers in their area and educate other local farmers.

Because of the group's success, the Kenyan government's ministries of agriculture and livestock selected Rose and her group as model farmers and a model group. The ministries highlighted the importance of Rose's cooperative and integrated livestock-crop farming to food security in the district and in the entire region.
Rose's four-acre farm is located about 15 miles from the Kenyan-Ugandan border. She currently owns two dairy cows and one calf. She has sold several of the calves and passed on two heifers to others in need as part of Heifer's Passing on the Gift ® process. Rose's farm is an example of modern integrated business farming. Her farm demonstrates poultry farming, dairy cattle farming and Sustainable Organic Agriculture (SOA) techniques, such as sunken beds, double dug beds and intercropping.
"My farm and those of my other group members have continued to be a source of knowledge for hundreds of families and groups who visit for learning purposes," Rose said. "All this you see in my farm, including my house improvements, have been made possible through the gift of training and the heifer that I received from Heifer. I owe this to them. God bless."
Among the notable dignitaries who attended the event were the area Member of Parliament (MP), Hon. Patrick Odhiambo and Bosek Lagat, area district commissioner. The MP took time to narrate what Heifer has done for his constituents in the fight against hunger and poverty.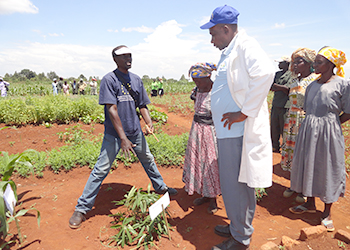 Bosek then urged the participating families to adopt the techniques demonstrated in the model farm. "This is the only way Heifer will be remembered for generations to come," Bosek said. "I can see Heifer has a practical approach to poverty and hunger eradication – empowering poor families through gifts of training and livestock!"

Heifer Kenya has supported 13 other community groups in the area (six already independent and seven continuing groups). All 14 groups participated in the celebration. One cooperative has already formed and is marketing raw milk from four nearby groups. The Heifer groups provided training and demonstrated various techniques on Rose's farm. During the celebration, two independent and two active women's groups received certificates for their exemplary work in contributing to food security in the Butula District and the Western Region.
Heifer Kenya also began a feasibility study to explore the possibility of supporting the Nambale Dairy Cooperative Society. The society plans to expand its capacity and venture into more milk-processing endeavors. The study will establish the willingness of the community to support a cooperative venture, the current amount of milk available and the future potential for increased production. This will culminate in the generation of a feasibility study report and a pre-investment business plan that will be used to source for investment capital from local mainstream banks and other financial institutions.