Story by Berlie Gatchalian | Assistant to the Country Director and
Karla Narcise-Rodulfo | PME Manager | Heifer Philippines
Heifer participants received school supplies and books that were donated by Elanco Philippines, a division of Eli Lilly and Company, in October, 2012.

Eli Lilly, a global company that develops products to improve the health and production of animals, organized a fun run that all its divisions in the country participated in. Elanco came in second place in the race and decided to use the prize to buy school supplies for Heifer families.

This is Elanco's third year of giving gifts to Heifer. The special ceremony coincided with Elanco's Day of Celebration for achieving its five-year vision ahead of schedule.

Hercules Paradiang, Heifer Philippines country director, Berlina Gatchalian, assistant to the country director, and Clem Roa, office assistant, collected the gifts.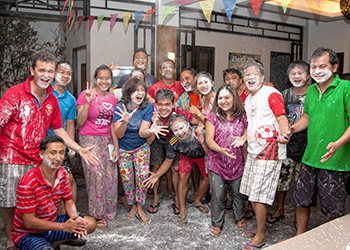 Doctor Lina Santiago-Policarpio, Elanco Philippines country director and Heifer Philippines Country Program Advisory Committee (CPAC) chairperson, pledged to assist Heifer in its networking activities. Elanco plans to participate in one of Heifer's Passing on the Gift® ceremonies in the future.