Every Sunday we highlight some of the people who are funding our work creatively or helping us spread the word of our mission online. If you spot Heifer International while you're surfing the web or know of a fun or creative fundraising effort, please share it with us here in the comments.
Building Faith online Christian Ed community mentions Beatrice's Goat, a book by Page McBrier, among a list of several great Stewardship Books for Children. This book tells story of a girl and the difference the gift of an animal from Heifer makes in the life of a community.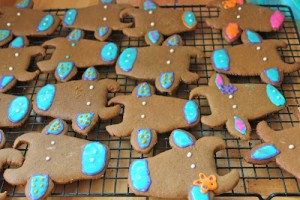 The 2nd Annual Cow Puja and Farm Fair was held September 30 at Squash Blossom Farm, and the awesome cookies pictured here were up for grabs in exchange for a donation to Heifer International. Thanks to the cooks, Bethany and Brendan! See more pics from this fun and festive day!
Diane Lane, a longtime supporter, talks about filming the PBS documentary "Half the Sky" and a bit about her experience with Heifer International.
You may want to check out this blog on the Provident Planning blog, What's the Most Effective Way to Give? The blogger and his wife, who have donated to Heifer, outline their priorities on deciding where a donation will make the biggest difference.
Our Lady of Lourdes Catholic School students in Dunedin, Florida, raised more than $1,000 during its "moo" service learning initiative to buy two cows for hungry families and communities in developing countries through Heifer International. To raise the money, students sold cookies and milk during snack time and after Mass in September, and made and sold cow-print hair bows and awareness ribbons.