As I spoke yesterday morning at the International Dairy Federation's World Dairy Summit 2012, I focused my presentation on Heifer International's work to build social capital and engage the smallholder farmer. From my first visit to the field, until now, the truth remains the same: rural Africa is changing, and Heifer is proud to play a role. Not only does Heifer's work empower smallholder farmers, it also enables them to take advantage of opportunities within their community to become a part of the dairy industry.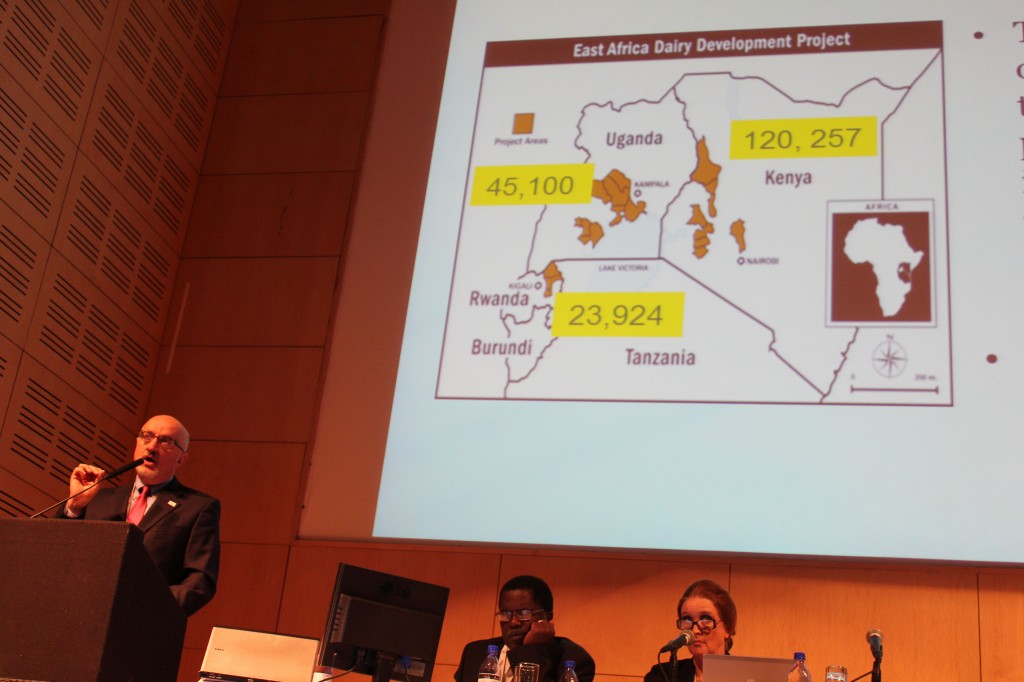 For Heifer's work to assist more people, we have to increase the size of our projects while creating measurements on our successes and promoting effective, successful development models. To help create social capital, we have to put our project participants on the pathway to economic prosperity through sustainable development.
Through the East Africa Dairy Development (EADD) project, we are doing just that. EADD is funded by a grant from the Bill & Melinda Gates Foundation and has, to date, helped 189,281 families. Heifer partners with TechnoServe, the International Livestock Research Institute, the World Agroforestry Center and the American Breeders Services Total Cattle Management Limited to implement this comprehensive dairy industry project. EADD has made impressive progress in all three countries of implementation (Kenya, Uganda and Rwanda) in increasing the incomes of dairy households and promoting the commercialization of the smallholder dairy industry. By bringing smallholder farmers to form cooperatives in their communities, Heifer helps them have a stake and voice in how the "business" of dairy unfolds. Farmers now understand how to improve their livelihood security through the production of high quality milk. Not only has milk production increased dramatically in these countries, but the milk quality has also improved.
Farmers are now encouraged and inspired to become even more knowledgeable in the dairy industry to not only help their families achieve income and food security, but also continue to create a successful cooperative that incorporates the entire community. Though all of these efforts take time, it's imperative to build social capital and effective training for lifting individuals and communities out of poverty for good.
One of our great success stories is Madeleine Madamu from Rwanda, a Heifer International EADD participant. For Madeleine and her family, the journey has been long, but they only look to the future with hope. "With just one cow, our lives have completely changed, when I look back to my days of extreme poverty, it seems so long ago and yet I do not forget that as a women, I have had to work extra hard to provide for my family. The determination of a woman is endless, we never give up hope, we just pick up the pieces and move on." Through Madeleine's determination, she participates in the dairy cooperative that will help her reach her full potential to provide for her family.
For smallholder dairy farmers, social capital is vital. Without it, farmers will not have successful, sustainable changes to their lives.