Story by Madeleine Muñoz | Program Assistant | Heifer Peru
Translated by Jason Woods | Americas Regional Program Assistant | Heifer International
Information and communication technologies (ICTs) are a key element for economic growth and development. They offer opportunities for global integration while retaining the identity of traditional societies. ICTs can increase the economic and social welfare of the poor and empower individuals and communities.
(Information and Communication Technologies: A World Bank Group Strategy. Washington DC: World Bank Group, 2002).
At Heifer Peru, we have strategically considered the inclusion of information and communication technologies, or ICTs, for the development of campesino (rural farm) communities. We believe that its use decreases the inequity gap in access to up-to-date information, which can generate the capacity that is needed to begin self-sustained social and economic development of people. Thus, we look to ICTs to help improve the quality of life of people in the most vulnerable sectors.
Heifer International and the International Institute for Communication and Development (IICD) finalized a Memoradum of Understanding (MoU) in November 2011 that frames an alliance between the two organizations to identify areas of cooperation to help farming families move from a position of vulnerability to one of sustainability through ICTs.
Heifer Innovates in Peru
From the experiences of Heifer International, Heifer Peru is playing the role of pioneer in strengthening local capacities to integrate ICTs into the management of its projects. Through sustained work with IICD, partner organizations and community leaders who represent project participants, Heifer Peru has managed to complete the design of three pilot projects in three regions.
Campesinos Open Their Windows to the World
"We create pretty, natural garments from alpaca fiber, and we sell it in our towns at different fairs, but I think we aren't very well-known yet. Our dream is for the world to see our work and to move forward to new markets. This is a vision, but I think that, little by little and in different ways, with promotion through catalogs, webpages, etc., we are advancing. And that would be a joy."
Elizabeth Villanueva, member of the Association of Artisans of Flor de Sancayo, Puno
Information and awareness generate knowledge and empower people, so ultimately ICTs will help multiply the number of campesino men and women who can access the right to be informed. And in turn, they can share information in and beyond their communities by recognizing their work and vision of development.
Through the pilot experience, Central Campesino Communities (CECOBOSQUE), a participant in the Piura umbrella project, is enhancing its capacities in the use of webpages, social networks, radio programs and printed and audiovisual materials. This will increase its representation in the region as an important organization that carries the voice of 34,849 member families in 25 campesino communities who are pushing for sustainable development in the fragile dry forest ecosystem.
In Cusco, 58 artisan families that are members of the Association of Producers and Artisans of the District of Marcapata are working through the Cusco umbrella project and will be trained in the use of virtual catalogs and audiovisual equipment to improve the production and promotion of alpaca fiber products through social networks.
In Puno, 65 women artisans who are participating in the FEED project are seeking to use social networks and virtual catalogs to advertise the diversity of their alpaca fiber crafts regionally and globally, generating an interesting opportunity to access new markets.
A Concrete Perspective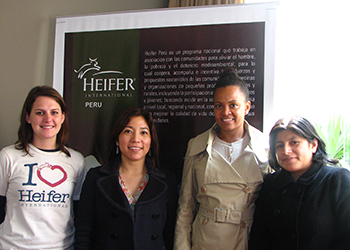 ICTs are a medium to achieve greater results. At Heifer Peru, we are aware that poverty has many sides and ICTs are not a solution to poverty, but part of a good strategy to ensure equitable strengthening of capacities in communities.
These pilot experiences are the basis for taking a look at larger proposals, expertise generated and lessons learned so that ICTs can be clearly incorporated in the Americas regional programs, such as those involving the Andean countries of Ecuador, Bolivia and Peru. IICD's experience in these and other countries worldwide is documented, and their experience in Peru is starting with Heifer. Linking ICTs to articulated themes such as the value chain of alpaca fiber, conservation of fragile ecosystems (mangroves, dry forest), climate change, food security and the empowerment of women can give a fresh perspective to our programs.