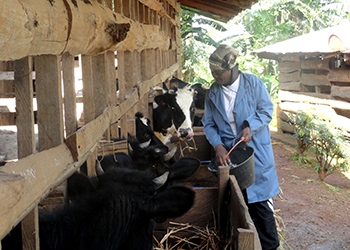 Story by Aaron Kah | Photos by Ali Festus | Contributions by Basam Emmanuel | Heifer Cameroon
Mary Sirri Ndikum, an entrepreneur in the Akum community, operates a dairy processing business in Cameroon.
She received training on zero-grazing dairy cattle management, gender and crop and livestock integration and a cow from Heifer Cameroon through her co-op, the Akum Multipurpose Dairy Farmer's Cooperative, in 2003.
Mary, 57, is the third of the ten wives of the Fon of Akum (traditional village head), Chief Ndikum George.
"Before Heifer Cameroon's support, life for me, my eight children and the other co-wives of the Fon and their children was chaotic," Mary said. The household was chaotic due to a lack of food and money. This translated into hunger, malnutrition and sickness. Through the cooperative, Heifer Cameroon improved Mary's farming skills. Mary received the necessary training and farm inputs before the animal was donated to her. Her animal calved soon after she received it, and she named it Thanks be to God.
Mary's cow produced seven gallons of milk daily. She shared it with her extended family and sold the extra milk. With support from her extended family, Mary's project grew steadily and her supply of fresh milk to buyers was constant. In her first attempt, Mary processed 15 gallons of milk into yogurt. The high quality of the product fetched more income than she initially expected. Her family's income rose, and she could afford to buy more food for her children and cover other household expenses.
Mary was determined to continue expanding her business. In 2007, she sold three bulls and bought three more heifers, making a herd of eight. The cow's dung fertilized her fields, leading to a higher yield. The harvest provided enough food crops for the entire Akum home
Energized by her success, Mary went in to large-scale production (by local standards). She processed 66 gallons of milk into dairy products each day. This earned her not only income, but a great deal of respect within her home and community. Mary became one of Heifer Cameroon's best dairy farmers. She traveled to Nairobi, Kenya, and to the Netherlands to learn more about milk processing. Upon her return to Cameroon, Mary trained her family and her cooperative group more extensively.
Mary has Passed on Gift® to many others in her community, and she is considered a local expert in dairy-farming practices. Today, Mary's monthly budget ranges from around $3,000 to $4,000. Looking ahead with pride and hope, Mary has lofty plans to continue making her farm more sophisticated. By taking action to improve her quality of life, Mary is an example for her community and has empowered women in her co-op to be self-reliant and to secure a better future for their children.