Story and Photos by Tho Doeun | Training Unit Volunteer | Heifer Cambodia
My name is Tho Doeun. I'm 25-years-old. I graduated with a bachelor's degree from the Royal University of Law and Economics in Phnom Penh, Cambodia. In July 2012, I started volunteering in a training unit for Heifer Cambodia. When I first joined Heifer, I did not believe that the Values-Based Learning Program (VBLP) could help community women become literate because the program takes only 12 months. All of the project participants are women, and most of them are illiterate. More than 30 participants of all ages attended the VBLP graduation exam at Rural Children Saving Association (RCSA)-Kampong Seila, Kampong Som. I noticed 55-year-old Soun Tho, who was working hard to complete the exam. I was interested in learning how she felt about participating in the literacy class, so after the exam, I asked if I could visit her at her home to discuss how literacy contributes to the quality of life for her and her family.
Soun Tho lives in Thmey village, Kampong Seila commune, Kampong Seila district, Pres Sihanuk Province. She is a housewife and her husband is a farmer. They have four children. During our visit, she shared how she felt before joining a self-help group (SHG). Back then, she was not involved in community activities. Her lack of knowledge made her too shy to participate. Besides, she was always busy with rice cultivation and raising animals for her family to sell for income. These activities left very little time for anything else. Even though she worked hard to earn money for her family, they always struggled because the animals they raised had very poor productivity and brought a low sale price.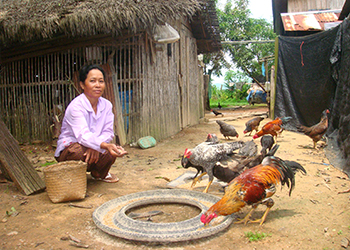 Since joining a Heifer project in 2011, Soun Tho's family's life has changed for the better. "I have a chance to save money," Soun Tho said, "and when I am in urgent need, I can borrow the group's money." She uses the skills she learned from livestock raising training to improve her techniques and produce healthier animals. Improved Animal Management training taught her how to prepare feed for her chickens. Her family earns more money now that the quality of their livestock and agriculture has improved. Soun Tho is pleased to share that she earns enough money to send her oldest son to study at the Royal University of Law and Economics in Phnom Penh. Her other three children attend high school. After daily expenses, including school fees, Soun Tho and her husband have 50,000 Riels, or about $12.43, left over each year.
After one year in the SHG, Soun Tho received 15 chickens. Now she can pass on the gift and still keep seven chickens to help support her own family. "Our family is very happy and deeply thanks RCSA and Heifer for establishing this project in our community," Soun Tho said with a smile. "Now I am brave and more confident to become involved in activities to develop my village."
As a volunteer, after hearing Soun Tho's story, I am more interested in VBLP. Not only has one woman changed, but the standard of living has improved for so many women and their families. Now I feel that VBLP can absolutely help women in rural areas. I hope to gain even more knowledge while working with Heifer.

Learn how you can help women like Soun Tho improve life for their families.