Many Impoverished Women Need Empowering
Ganga Khanal lives in a village in Nepal's southern flatlands. She is stubborn, driven and outspoken, but she gave birth to daughters instead of a son. Since sons are very important in her culture, she believed she was letting her family down, and so did her husband. Their relationship was strained to say the least. He wouldn't listen to anything she had to say, and after the birth of their second daughter, he married her sister so he could have a son. Khanal was not happy and often fought with her sister, but when she spoke up, her husband hit her.
Heifer International's Projects are Empowering
She had no hope, until she learned that a group participating in a Heifer project was looking for another group to pass-on the empowering gifts of animals and trainings. Despite bitter opposition from her husband, she formed a self-help group (SHG) and received goats and trainings.
"Today I am something. I have substance; I have animals; I have crops," Khanal said.
That is just the beginning. She sits on the executive board of a woman's cooperative, and helps run the co-op store that sells produce grown by its members. She is empowered, and has the respect of her husband and her children, including two sons (born after her husband married her sister).
Her son, Sudip, said, "I used to laugh at them sitting in their groups and thought they would never do anything good." But he says that has all changed now. "I have so much respect for these women who have created opportunities for people like me. The future looks bright for us because of our moms."
Empowering Women Can Help them Out of Violent Situations
On this, the International Day for the Elimination of Violence against Women, you can make a difference. Give the gift that's key to empowering women like Khanal. Starting a Self-Help Group provides women with training and livestock and gives them the support and self-confidence to lift themselves and their families out of poverty, and oftentimes, out of a hostile home environment that has been plagued with domestic violence.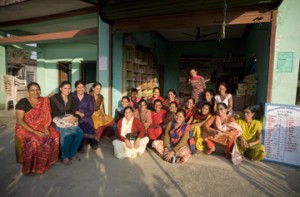 What makes Heifer unique is that when you help someone like Khanal, she is empowered to help someone else, in her own SHG or in a new one through Passing on the Gift®, and the cycle continues until the entire village, and beyond, has been transformed.
Read the more about Khanal's journey and the journeys of several other Nepalese women and their changing lives in this story, The Heart of Enterprise, featured in World Ark magazine.
This post is part of our What to Give series, where we're helping you choose the best Heifer gift for your loved ones. Read previous What to Give posts here, and subscribe to the What to Give series here.
Still don't know what to give? Check out our entire online Gift Catalog.