Every Sunday we highlight some of the people who are funding our work creatively or helping us spread the word of our mission online. If you spot Heifer International while you're surfing the web or know of a fun or creative fundraising effort, please share it with us here in the comments.
Cornerstone United Methodist Church held its annual Glorious Giving Market November 10, 2012, benefiting six organizations including Heifer International. "It's a glorious thing that God would be proud of because it helps really needy people," said Patricia Harlan, Leader of Mission Team.
The Juniper Moon Farm has a recent blog post listing great children's books that feature knitting, yarn or sheep, great holiday gifts. If you find a book you want to buy, and click on the link through the blog, the blog will donate it's percentage to Heifer International.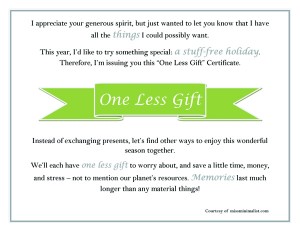 I thought this was a unique way to let others know you'd be happy with an alternative gift this holiday (such as the kind Heifer International offers). Check out the One Less Gift certificate.
She Knows Shopping tells us How to Give to a Giver: "Skip the commercial items this year, and give your advocate friend a gift that supports a cause you know will be meaningful." Buying a chicken or cow through Heifer International is among the great ideas listed.
Students at Los Alamos Middle School in New Mexico are participating in Heifer International's Read to Feed' a reading incentive program that allows children to help find solutions to global problems like hunger and poverty. Students will record books they read through Dec. 14, and will ask for pledges for each book read.
Tina Forsyth is having a virtual launch for her new book to help entrepreneurs improve their business process and enjoy some time off. Heifer International will benefit from 25 percent of the sales from the launch.
Saint John's Presbyterian Church in Houston is having a Living Gift Market on December 2, and will feature many booths selling items that will benefit the community and the world, including Heifer International.
In Kendal Park, New Jersey, an alternative gift market is being held November 18, offering African, Asian and Latin American handicrafts, as well as alternative gift offerings from Heifer International.