May 12th is World Fair Trade Day, and like many celebrated days, I think this is something we should consider every day. Last month we shared with you how to purchase coffee with a conscience, and I wrote about coffee. I mentioned that in my previous life I assumed purchasing fair trade was "enough" to help the farmers move from poverty to a sustainable life.
Fair trade is a wonderful practice - we purchase good, quality products, and the farmers receive a fair price for their product. But another aspect we want to make sure we consider is that we are improving the lives of the farmers. We want the farmers to produce, first for themselves and then to sell the surplus, and through this build their sustainable lives.
Fair trade supports helping farmers, and at Heifer we believe this is an important component of helping more people. But we also need to have an understanding of the big picture and support the full cycle of farmers improving their lives. We want this practice to be beneficial both ways, for us and the farmers!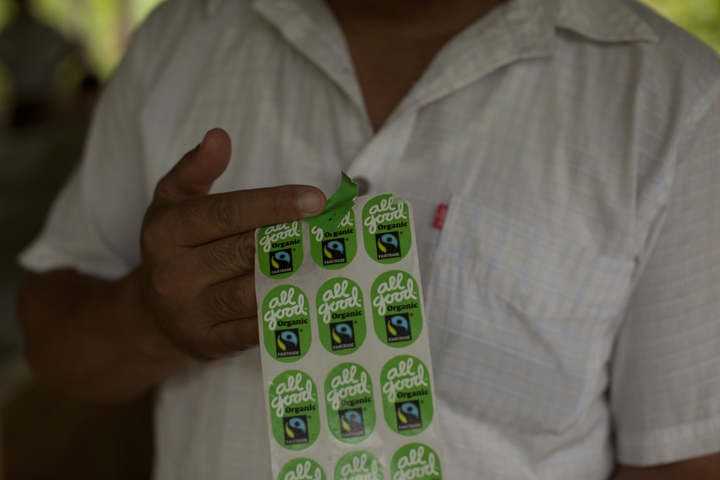 This is why it is important for Heifer to support organizations such as Fair Trade USA. It's not just about purchasing fair trade products, but it is also about ensuring that we incorporate different elements while working with the farmers. Protecting the planet, supporting farmers as they build their business, educating and empowering all families members (especially the women!) and fighting poverty are all part of the solution.
As I have mentioned before, I am on the board of Ben and Jerry's, and one of the plans we are implementing is incorporating fair trade products into our ice cream. I'm pleased to report that by 2013, the products Ben and Jerry's uses for their ice cream will be 100% fair trade. I'm also excited to mention that in my travels last year to Ecuador we met with a fair trade banana cooperative that is working with Heifer and (coincidentally) provides Ben and Jerry's with fair trade bananas. What a small world!
So yes, it is important to purchase fair trade products - but it's also important to support organizations like Heifer that are working with farmers to ensure they have the essential tools needed to rise above the struggles of poverty.
So if you'll excuse me, I'm off now to drink my Yerba Mate (organic, shade grown, reforestation oriented, fairly traded of course!) and contemplate on what more we can do to end hunger and poverty.