Story and photos by Katya Cengel
Suman Kumari was in 5th grade when her parents pulled her out of school. Her father told her she had studied enough for this lifetime.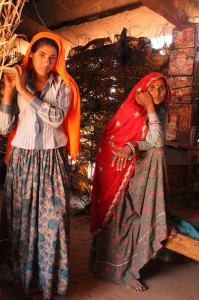 "At rebirth from the womb of some other mother, then you can study whatever you want, or to whatever standard [grade] you want," Laxman Meena told his eldest daughter.
Suman's mother didn't argue. She never went to school and cannot read or write. Like her husband, Moti Meena felt it was not important for their daughters to be educated.
Then, three years ago, Moti sent Suman back to school, telling her to study hard so she could help Moti with the family's finances. Suman adjusted well despite having been out of the classroom for four years. She is now 17 years old and in the 8th grade. Her mother relies on her to read road signs when they travel. Moti herself can now sign her name, but it was not her daughter who taught her this skill, it was the women in her self-help group. The group has transformed Moti's future and just as importantly the future of her daughter Suman.
Female-centered self-help groups are the basis of Heifer International's work in India, said Abhinav Gaurav, technical liaison officer for Heifer India.
"The idea is to better the situation for women in a country that does not value them in the same way it values males," Gaurav said.
Groups of 20 to 25 women meet once or twice a month and are offered various social, educational and economic trainings in addition to a savings and loan program and the support of their peers. While Heifer does supply goats in the region, Gaurav said that development here is not so much about livestock distribution as "transforming people and producing a deeper level impact."
Moti's family lives in a one-room thatch-sided home with a dirt floor in the hamlet of Moradi, where Heifer has been working since 2009. Of the 25 families in the settlement, 10 are associated with Heifer. In three years she has become more accepting of the different castes and tribes that populate the region and has saved 3,500 rupees ($70), which she plans to put toward replacing her home's walls with concrete. Although she cannot remove her savings until she leaves the group, a condition that enables the group to lend money, she can borrow money at low interest rates. It was Heifer's training on gender issues that convinced Moti and Laxman to put Suman back in school.
"After we received the gender training the whole community put pressure on us to put our daughter back in school," Laxman said.
Both Laxman and Moti now want their eldest daughter to complete 10th grade. Moti already believes that her daughter is more knowledgeable than she was at her age. But despite all she has learned, Suman remains impressed with her mother's wisdom.
"I see mother as a role model nowadays because she has gained knowledge and skills," Suman said. "I want to be like her."
This Mother's Day, celebrate your mom by helping provide for another mother in need.