Who's your dad? Is he the landscaper type who is always outside? Maybe he's the fisherman who spends Sunday afternoons with a fishing pole and some bait. There is always the do-it-yourselfer dad who can fix anything. Or does your dad enjoy golf on the weekends?
No matter what type of a guy your dad is, Heifer has the perfect gift this Father's Day. A gift from Heifer.
If your dad is the landscaper type, give him a goat. These versatile creatures can survive in even the most extreme climates. They supply up to a ton of milk a year, leading the way for better nutrition in impoverished communities.
If you're dad is the fisherman, consider honoring him with fish. Healthy, lean sources of protein, fish help families increase their daily nutrition.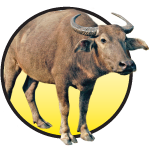 The do-it-yourselfer dad would enjoy a gift of a water buffalo. This "living tractor of the East" are tough guys who empower families to lift themselves out of poverty and hunger. A farmer can plant four times more rice with the help of a water buffalo than he can by hand.
If your dad would rather be on the golf course, then a flock of chicks is the ideal gift for him. One chicken can lay an average of 257 eggs a year for a family. This provides a family enough eggs to eat, sell and share, ensuring health and well being for an entire community. That's a "birdie" any golfer would love.
If you're looking for some fun activities this Father's Day check out our Pinterest board showing fun, creative homemade gifts.
What kind of dad is your dad?