Help Honduras families in need of help fund women's groups just like Milli's.
In the small village of Bodhimuha, India, lived a little girl named Milli, who was full of dreams; dreams of opportunities like education, good food and clothing, self-respect and happiness. However, saddled with poverty, these dreams gradually began to dim.
Today, the family of 25 year old Milli consists of three members: herself, her father Jaynarayan Sing (65 yrs.) and mother Sakuntala Sing (60 yrs.). Growing up, they led a hand to mouth existence. Milli got a chance to study in the village school until 5th grade, but despite her high intelligence she could not study further. Her father stopped her from going to school and forced her to stay at home to cook, tend to cattle, and otherwise work on the farm. She also worked in the home of a rich family in her village, where she had a lot of exposure to the skills involved in gardening and the making of leaf cup plates.
As Milli grew older her parents worried, like every Indian parent, about her marriage. Despite all their financial difficulties, her parents were able to find a suitable groom for her and concluded her marriage ceremony with traditional gaiety. Milli started her new life in her in-laws house, far from her village. For a while she lived happily with her husband, but soon the honeymoon ended. Milli was tortured, physically abused, and even bitten by her husband. She was scolded by her mother-in-law, who wanted her to get a dowry of 10,000 rupees (Rs.)($ 230) from her parents. Milli's parents were unable to fulfill this demand, and as a result she was thrown out of her in-law's house. The incident disheartened Milli, and broke her dream as she divorced and returned to her parents' home where she now resides.
One day she came into contact with a community organizer, who had formed a local Self Help Group (SHG). The community organizer briefed her about the details of the SHG and its benefits, and she urged Milli to become a member of such a group. Milli immediately took to the idea, gathered a few women in her community, and formed a group named Siteleswari. She led it as the secretary, as she was the only literate member of the group. Their first act was to start saving 10 Rs. per lady a month.
This opened a new door for Milli. The group linked up with the local bank, and received a loan of 10,000 Rs. ($230) for different activities. Milli made sure that the group repaid this loan within a short timespan. Milli also engaged the group in other social activities, conveying that "women were not alone if they combined in a group they can achieve anything". She started a movement called "Quit Liquor", as the local liquor trade adversely impacted the community. Men would drink and then domestically abuse their wives and children. After a prolonged struggle, the liquor shop in question ultimately shut down. This personally helped her to heal from the abuse she had suffered at the hands of her in-laws.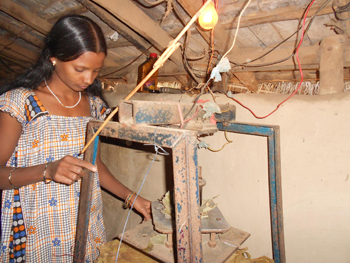 In 2010, UNNYAN, a local NGO working for women's empowerment and social development, met with Siteleswari to introduce the Heifer project- "Tribal Empowerment through sustainable livelihood program". The Heifer approach introduced new concepts like "Passing on the Gift"; and Milli with her group received training in concepts such as the 12 Cornerstones, SHG management, Gender, Kitchen Gardening, Vermi-compost, Ethno-vet, and Improved Animal Management (IAM), as well as the gift of 3 goats and plant saplings.
The Heifer approach gave a new direction to Milli's life and the Heifer Cornerstone "Sustainability & Self-Reliance" gave her new meaning. From her previous experience in leaf cup plate making, she started her own venture using a small amount of capital. She leased a machine for 150 Rs. per month ($3) and worked for 10 to 12 hours a day. She was able to bring in an income of 5000 Rs. ($110) per month., which both made her economically independent and gave her self-respect. Her vision led the group to new heights, and they were subsequently able to obtain a loan from the Bank for 1,300,000 Rs. ($3,000) for entrepreneurial activities. As a result, the group savings has increased from 10 Rs. to 30 Rs. per month.
Heifer intervention opened my eyes and gives wings of hope to fly as I wish.



Under the leadership of Milli, the group conducts monthly meetings, builds their savings, and reviews plans for further entrepreneurial endeavors. Milli also continues to pass on the gift to others, in the form of training and vegetables from her kitchen garden. Milli says that the "Heifer intervention opened my eyes and gives wings of hope to fly as I wish, everything is in a single garland in the shape of 12 cornerstones. I believe that I could do something for me and something for the society before I sleep".