Earlier this week, we had the honor of hosting former democratic Presidents and Prime Ministers as they gathered to take part in Club de Madrid's annual conference. Club de Madrid is a nonprofit organization that works to strengthen democratic institutions and to offer advice on the resolution of political conflicts in order to enhance development and improve the lives of those most in need.
This year's theme was "Harnessing 21st Century Solutions: A Focus on Women." We were very excited at Heifer to participate in these discussions, as it is a common theme in our work.
There was a flurry of events, including a dinner hosted by Arkansas Governor Mike Beebe, where I was asked to speak about the important role women play in ending hunger and poverty. I'd like to share with you some of my thoughts from that evening:
It is important that efforts such as the Club de Madrid conference continue, to ensure full participation by women, in politics, government and business, as these are all vital to the kind of world we wish to live in and to leave to our children and grandchildren.
I am pleased, too, at the role Heifer International is taking to help create this future world state, this must-win effort, through agricultural development. We know there is no development strategy more beneficial to society than one that involves women as central players.
Secretary of State Hillary Clinton said in a recent interview with Heifer's magazine staff, "Women have shown, time and again, that they will seize opportunities to improve their own and their families' lives. And even when it seems that no opportunity exists, they still find a way." We know that to be true. We see it every day in every country in every corner of the world in our work.
Heifer International is a leader in agricultural development with the extremely poor farming population. You may not know that, though, because we've long been viewed as a gentle, well-meaning "give a goat" charity. But we are so much more than that. And women—very poor, smallholder farming women – are at the very core of our work. This has been true for nearly 70 years.
Our mission has been and is to work alongside those women and men, providing animals and training, and educating them to use them as assets and build a business. As families grow better, more resilient crops, their nutrition and diets improve, and they earn more income. We support their efforts to connect to viable markets so they can contribute to and benefit from agricultural value chains.
We do this very patiently. Our partnerships with these families last from three to five years to ensure resilience and sustainability. The transformation continues, as each family—more than 18.4 million to date—pledges to pass on the first-born female offspring of their animal, with training, to another family. We call it Passing on the Gift, and it's community building in its purest form: community decided and community driven. It shifts the communities we work with from being recipients to donors. The deep psychological transformation is remarkable.
We do that because economic growth without social change and growth is doomed to fail. It doesn't last; it isn't sustainable. But combine our inputs with training in our 12 Cornerstones for Just and Sustainable Development on issues such as sharing and caring, gender equity, accountability, full participation, animal welfare and others, and you create generations of change, of improvement, not just for one family or two, but thousands.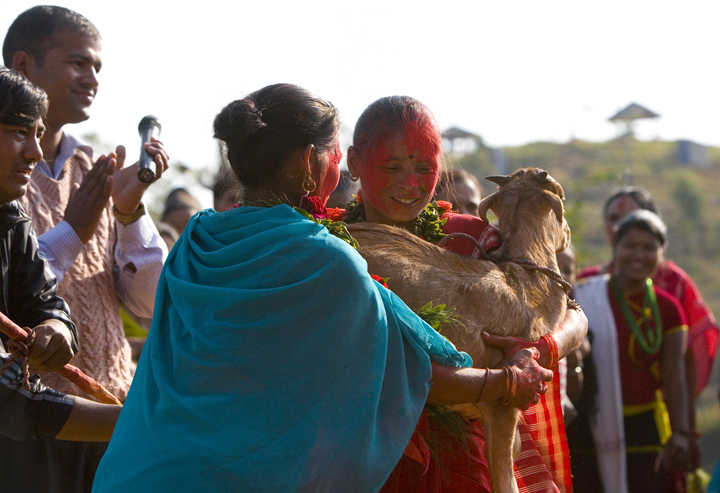 In our Nepal program, for example, communities are celebrating their 13th pass-on generation. Imagine, one goat became two, then four, then eight. After 13 generations, that is 4,096 goats, not counting all the kids, and 4,096 additional families benefiting from the original goat and training. That's exponential impact.
You know the numbers, but they bear repeating—nearly one billion people are chronically hungry, 2 ½ billion people live on less than $2 a day, world population is at 7 billion now with 9 billion expected by 2050. That's a lot of mouths to feed. The question is, how do we do that?
We believe that we, and others like us, have part of the answer.
The dominant narrative today asks how investments in large-scale agriculture can solve the world's food problems. But that question ignores potential costs of that kind of scale-up in environmental impact, in economic and social equity. So the more appropriate question might be: how can smallholder agriculture achieve the necessary scale so as to be able to feed the world and cool the planet.
Here is our view. Currently, there are 650 million smallholder farmers in the world; most of them—70 percent—are women. They are the very backbone of agriculture, and the key drivers of food production. They own less than 1 percent of the earth's land, but they produce up to a staggering 80 percent of the developing world's food—proof that, as authors Nick Kristof and Sheryl Dunn observe, "Women hold up half the sky." In this case, more!
For Heifer, these smallholder farmers—women—are the future to feeding the world.
We are seeing progress made - significant progress. We have seen extreme poverty reduced. The proportion of hungry people has been reduced. Today, nearly 80 percent of humanity has enough to eat to maintain a productive and healthy lifestyle. A dozen or more countries have reached the first Millennium Development Goal to halve hunger from 1990 levels.
Public and private investments in research, irrigation and infrastructure are up, and the Green Revolution continues. Yields are up, for example, in Malawi, which transformed itself from a net importer to a net exporter of maize for a number of years running. We've seen improvements in Rwanda, Kenya, Ghana, Ethiopia and elsewhere.
We are seeing greater use of agroforestry to improve soil fertility and increasing investment in projects that reach women and other vulnerable populations. But there remains much to be done; we cannot afford to lose the momentum.
We want to ensure continued and steady growth toward all of the Millennium Development Goals, toward humanity's goal—to ensure that everyone everywhere has the same chance to eat, to be healthy, to contribute, to be fulfilled.
And that still begins with women.
For Heifer, it begins in a farmer's field, but it has to grow, to bloom so to speak, so that women take their place and strengthen their impact in decision-making forums, such as local cooperatives, national agri-business forums, government cabinets; local, provincial and state assemblies; political parties; the judiciary; labor organizations; NGOs and others.
We have so much to gain from increasing women's leadership. History shows that economic and social development always contributes to positive attitudinal changes in perceptions regarding the appropriate role of women, proving that given the right tools and training, along with the opportunity to build assets and income and a means to broaden the views of men to accept women's rights, these women will help lead and help feed the world. And we need them to.
We are a proven solution to hunger and poverty, but we are one of many who share in this most important mission. We need to ensure that we come together to invest in rural agriculture, particularly in women who are the key to feeding this hungry world.
I encourage you to invest in these women, to invest in smallholder agriculture. They will provide us with the best path out of poverty and the world will be fed.