Visitors traveled to the cooperative milk-processing plant Molochnyi krai in Panka village, Ukraine, for a study tour on November 28, 2012. Representatives of Heifer Ukraine, project leaders from Odesa and Kirovohrad oblasts (who also plan to launch similar enterprises), technologists, a designer and a state administration representative visited the site.

During the study visit, participants learned the history of the dairy plant and asked questions about challenges. It was very important for the visitors, who are directly involved in project implementation in their hometowns, to learn how Ukraine's first cooperative dairy plant was built and how it operates today.
The event was facilitated by Yaroslava Sorokopud, a Heifer Ukraine training coordinator. Yaroslava explained the importance of such visits and shared valuable information on the rules for conducting study tours.

Iryna Pavliuk, board member of the Novobroskivetsky co-op (and one of the three founders of the enterprise), spoke about the co-op's origins and how it grew to unite more than 700 active members. She also described how they developed the idea of establishing a milk-processing plant that would create jobs for local community members and guarantee a market for raw milk produced by smallholders in the region.

"We started in 2006 by creating Novobroskivetsky co-op—the first agricultural service cooperative in Chernivtsi oblast, now implementing several of Heifer Ukraine's projects," Pavliuk said.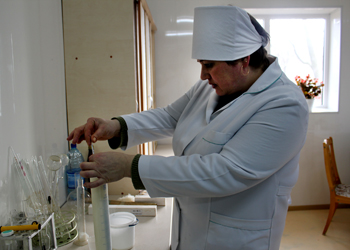 "Seven years prior to that milk was not collected in the region at all. Since the beginning, the dairy plants, which purchased milk from the co-op, never paid on time or sometimes even didn't pay at all for the supplied milk. This situation created enormous debts that we had to cover by taking credits. All this led us to the idea of creating our own milk-processing enterprise. This plant was built through many hardships and a lot of hard work."
Viktor Ivashko, director of the Molochnyi krai plant, gave a tour and showed the production chain. Viktor showed cheese-making equipment, a room for cheese maturing, the packing room, labeling and storage of the ready products. He also showed a boiler room and waste-water treatment facilities.

Every step of the way the tour was filled with questions concerning selection of the efficient equipment, construction of the premises, production conditions and necessary documentation. This visit gave the teams from two oblasts a chance to see the final result that they are trying to achieve in their regions, as well as to receive a lot of practical information.
The cooperative enterprise, Molochnyi krai, will serve as a learning center for rural communities all over Ukraine that plan to construct their own small-scale dairy plant. The plant has 12 tons per shift production capacity but is now processing around two tons of milk per shift. It is expected the plant will reach its full capacity during the next year. Rural families, united into three co-ops, supply milk to the plant. In turn, the three co-ops established a union of agricultural service cooperatives. Molochnyi krai is the first dairy plant in Ukraine owned by rural smallholders.
Find out how you can help families around the world.