Story by Chheang Sokmao | Program Officer | Heifer Cambodia
Translation by Prak Somathy | Networking and Resource Mobilization Manager | Heifer Cambodia
Located in northwestern Cambodia along the border near Thailand, Ta Tauk and Kampong Lpao are two poor rural communities in Samlot district, Battambang province. Most people here depend mainly on forest products, hunting and cutting trees to make a living, while livestock and vegetable production has not been productive enough to feed their families.
Living conditions are very poor, with many difficulties and huge shortages. Lack of knowledge, skills and harmony within the community have had a negative impact on agricultural production activities. The people cannot seem to find a way out and toward development although they have opportunities to work with governmental and non-governmental organizations on the local and international levels.
To help solve these issues, Heifer partnered with the Khmer Community Development Association (KCDA) to start the Improving Income and Nutrition through Community Empowerment project in August 2012. This project works with 10 self-help groups (SHGs) comprising 250 families from six villages. The project supports the communities to increase their income, well-being and agricultural development through the value chain. Using the Values-Based Holistic Community Development (VBHCD) approach, project families received a series of trainings and a Project Management Committee (PMC) was formed to play an important role in project planning, management and monitoring. The SHG members are very interested and have participated fully in project activities with a fruitful expectation for the sustainable development of their community.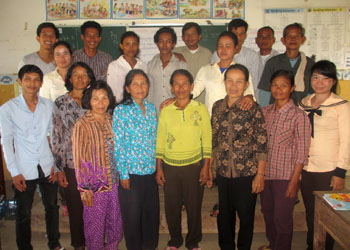 "I am very fascinated with Heifer's 12 Cornerstones (for Just and Sustainable Development) because they have covered all fields that are able to boost our community toward development and sustainability," said Am Sam Ol, a Community Animal Health Worker (CAHW) and member of the PMC from O'Tateak village. "During the training, we had an enthusiastic discussion while the participants expressed their understanding about each stone." Soon after finishing the training course, Sam Ol shared his knowledge with other project members.
"I am interested in the micro-finance management training provided by Heifer," Phuong Nen, a group leader from O'Nornorng village, said. "This system is very clear and easy to apply, and has encouraged SHG members to fully participate in a group saving plan, as they are willing to put more money in to receive more dividends." Nen was not optimistic about his community before joining the project. "I thought that my community could not be saved because we were very poor. But now I understand that a poor community can be saved. We can start an SHG with like-minded members and develop our group rules, regulations and statutes for implementation. Later on, when our group progresses, the number of group members will increase and the amount of savings will increase, too. One drop of water is useless, but many drops of water together can be used for drinking, washing or cooking." After attending the training on micro-finance management, Nen talked with her group members, and they agreed to start saving. They are interested in the micro-finance management system and plan to apply this new system early in 2013, with hope that their group savings will increase.
Four months after the project implementation, the community formed 12 new SHGs, with a total of 300 families. They are currently conducting project activities and are similar to the original SHGs, in terms of monthly meetings and savings.
Find out how to help start a self-help group in a community where it's needed.