Story by Laura Manciu | PR & Communication Coordinator | Heifer Romania
Historical Photos Courtesy of Heifer Romania
Heifer Romania is celebrating 20 years from the date of its first official Letter of Agreement (LOA) signing. This is truly an important milestone that inspires a moment of retrospection. It is time to look back at what was done and lessons learned, but also a time to think about and plan for the future.
It all started in the spring of 1990 with a Heifer International prospect visit to Romania. After the fall of communism, Romania was struggling, trying to find a new path toward a modern economy and democracy. Fifty years of dictatorship had stripped the people of creativity and open-mindedness. This transition era of the 90s brought many changes, both good and bad.
Professor Henrik Jasiorovski, the first director for Heifer International's Central and Eastern Europe program, was well informed on the post-revolution dynamics in Romania. He was the one that introduced Heifer into the Transylvanian landscape. His determination and collaboration with the University of Agricultural Sciences and Veterinary Medicine from Cluj helped create the first Heifer project for Romania.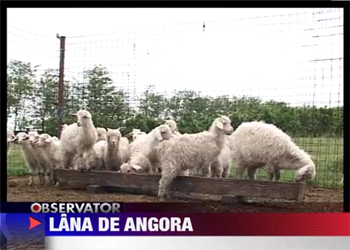 On December 14, 1992, the LOA for the Angora Goats Production on Family Farms in Romania project, with a budget of 30,000 Romanian Leus, or about $8,580, was approved. In January 1993, the first purchase of livestock was completed. The group of Angora goats that began that year has grown through the generations and inspired people like Aurel Constantin, who now owns a 300-head goat farm and aspires to raise that number. On a recent TV show this gentlemen was shown as an example of entrepreneurship and reference was made to the nucleus of goats that resulted from this project.
At that time the activity in Romania was coordinated by a single volunteer, Ovidiu Spinu, who is still part of the Heifer family after 20 years.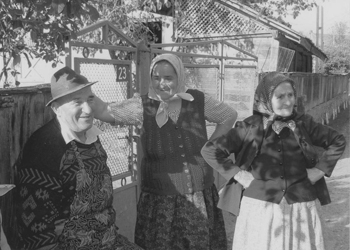 "This anniversary prompts me to look back in time. When I think back to the end of 1992, I see the birth of an organization that is providing a sustainable solution for rural Romania. Passing on the Gift® has been a building block for these past two decades, teaching people about working together and having a common vision for the future. We are currently living in challenging times that push us to find new ways of serving our mission. I am confident Heifer Romania will continue its work in assisting poor communities in this country and abroad," said Spinu.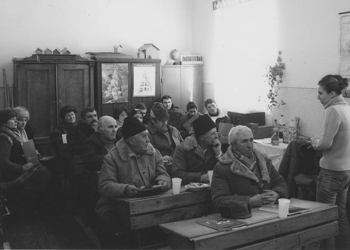 Two years later, Gheorghe Abrudan joined what was until that time "the one-man Heifer team." He worked as a volunteer for eight years. In 2002, Farmers Feed the Children, the emblematic project of Heifer Romania, started with Abrudan as the project holder. He later became part of the staff and he, too, is still part of the organization.
"This program is exemplary. It's a model of a successful nonprofit that works for rural communities and has gone above and beyond to help people prosper. Every day and every project makes available for beneficiaries the dream of sustainability and prosperity, turning it into reality with common effort," Abrudan said. "Year after year the project diversified, a new artificial insemination component was added, and the range of livestock expanded. I remember best the interactions with beneficiaries. We used to organize our meetings in schools and in people's backyards, anywhere we could find a suitable place. There were no computers back then; all correspondence was through the classic post office and in handwriting. Now everything is much more organized and technical, and planning is easier, having a positive impact on the projects' overall impression. I am always in the field and in close contact with the farmers. I can see the charm of their life as they stare at the earth's cracks and turn their head towards the sky, asking for God's mercy. This is what study tour participants notice and experience. Life in a traditional Romanian village is full of flavor and the only way you can taste it is if the sunset catches you near the fireplace listening to incredible life stories of farmers from generation to generation."
Currently there are 11 staff members, ranging from 20 years of experience to two months. The team has grown and diversified, but we are all professionals who trust and work for Heifer's global mission. In the last 20 years, Heifer Romania has developed 63 projects and has helped more than 98,300 families.