Story by Huong Nita | Training Manager | Heifer Cambodia
Photos by Tho Deoun | Volunteer | Heifer Cambodia
Heifer Cambodia has worked diligently over the past few years for women's empowerment and to increase the number of women in leadership. As part of this effort, 21-year-old Sal Ranny, who graduated from school in 2010, was selected as a Literacy Facilitator (LF) to provide literacy classes to women's groups implementing Heifer's Community's Empowerment and Environmental Protection Surround Tonle Sap Lake project. The project started in August 2011 in partnership with Farmer Organic Development Association (FODA) in the Siem Reap province. "I had no skills besides knowledge that I gained from my school and did not know how to communicate with people in the village," said Ranny, remembering how she felt after she was selected to teach others.
Ranny treasured her job and worked diligently. She visited people in all parts of her village, especially participants who attended the Values-Based Literacy (VBL) class with her, and she began to learn from the communities. After receiving much training from Heifer Cambodia, she organized a class and began teaching.
Ly Hach, a 52-year-old member of the Srey Kumro Sok San group, said, "I always attend the class because I love my facilitator. She is very nice and helped us read and write, even though I'm getting old." Prom Dor, program coordinator of FODA, added, "I am comfortable working with her because she is responsible for her work, helps communities in her village and gets good results."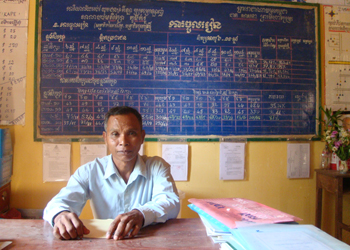 The knowledge and skills Ranny has gained from being a Literacy Facilitator are helping her move forward in her life. This school year, she was selected by school principal Oum Hant to be a contract teacher for the primary school of Phum Kumro, in Kralanh District, Siem Reap Province. "Many adults in our village want to be a contract teacher at my school, but I decided to choose Ranny because she has a very good attitude, is honest and is sharing and caring with other villagers. Moreover, she has capacity in facilitating and preparing lesson plans similar to other teachers at my school. Now she teaches grade three."
Ranny prepares her schedule for providing the Values-Based Literacy class to self-help groups in the morning and teaches her students at the public school in the evening. "Because of Heifer's 12 Cornerstones for Just and Sustainable Development, my dream came true. I became a facilitator, and now I am a contract teacher at the public school. I would have never thought I would be here today, because my family is very poor and my parents only allowed me to go to school until I graduated from high school. My three brothers had no chance to finish school like me. After I graduated, I worried that I wouldn't get a job such as my dream, to be a teacher," said Ranny.
"I would like to thank FODA and Heifer Cambodia, which supported my village and especially me, and helped me to be a good person and offered me a job. I will try to improve myself to become a full contract teacher at the public school," Ranny said with confidence.