On Heifer International's Christmas Wish List, we want you to look at Christmas gift-giving from a different point of view. From a sheep's-eye-view, actually.
These guys are marvelous – they provide wool and manure for rural families, and even meat and milk in some cases. And the sheep will tell you all about it in this Heifer Christmas video shot in Ecuador.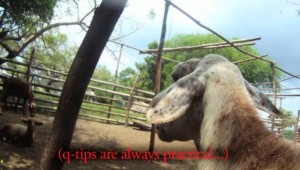 The sheep -- they actually look like goats to me, but I'm assured that they are recently-shorn sheep -- required a translator for the "baaaa"s, but Heifer took care of that for you. See what the sheep have to say, and then consider purchasing a sheep as part of your Christmas shopping.