Written by Le Thi Thao Anh | Volunteer | Heifer Vietnam
Edited by Nguyen Xuan Quyen | CNO | Heifer Vietnam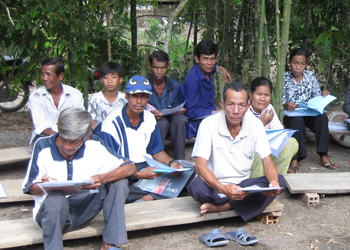 Kim Chia (first row, right) attends Farmer Field School training on chicken production.
"My only wish is to be able to build a new house for my children to get married."
Kim Chia shared his dream joyfully while inside his old-thatched house where he and his wife Lam Thi Tiet work hard all year long to send their two children to school. When they were married they led their own family life with a dowry of 1 acre of rice cultivation land, a quarter-acre crop land and their current house. Their life was stable with these assets; however, they sold some of their land to pay for treatment for one of their sons, leaving them with the house and about a half acre of land. Add to this, they had to make the decision to have the children drop out of school when their health was not good. To earn income, the couple rode almost 30 miles to sell grass brooms at market and occasionally had to sleep overnight because of the long distance, and Tiet goes to work as a seasonal laborer. At 50, Chia should be retired but still works as a docker 2 to 3 days a week because of his unstable income.
The desire to bring his family out of poverty was always on Chia's mind, so he signed up when he heard that a Heifer International project was being implemented in Phu Tan village, where he lives. He never misses the trainings or group meetings, as he is very enthusiastic about learning new things both from the trainings and from fellow Self-Help Group (SHG) members. He applies the technical knowledge from the trainings into his rice field, and his determination and diligence bring about a good profit. His crop produces high yields with a profit of $200 to $250 for the two crops a year. He borrowed from the revolving fund to purchase cash crops of vegetables and scallions. Their two dutiful children, who now work away from home, send them $100 to $150 every month to help with the financial burden. With a stable income plus support from their children, Chia has started purchasing building materials to realize his dream house.
In addition to the knowledge gained from trainings on cow production, nutrition and healthcare, the money borrowed at very low interest from his group's revolving fund now helps generate even more income for his family. Above all, he now understands his wife's role and shares the workload with her. His attitude and actions have improved their spiritual life despite their financial trouble. He has gained the interest of his neighbors by enthusiastically sharing his new knowledge and by showing them the efficiency the project has brought to his family. His voluntary service and enthusiasm have gained him his group's trust and they voted for him to be vice group leader.
Chia expresses his deep gratitude to Heifer for making many meaningful contributions to his community and his family. "Thanks Heifer, so much. I will take good care of the cow and will pass on a heifer to another needy family. When the project ends, I will have the cow as my valuable asset. I also hope there will be more and more Heifer projects in Vietnam to assist more disadvantaged farmers."
As I said goodbye to him, I was very excited to see for myself his bright future with a better house that is about to be under construction.