I recently read an article from the World Watch Institute that said there are "low investments in women farmers, despite their important contributions to global food security."
I'm familiar with the general facts –
Women have limited access to land.
Women have limited access to credit.
Women have limited access to education.
And yet, "[women] produce as much as 50 percent of the agricultural output," according to World Watch Institute.
Heifer has continually recognized the importance of empowering women, especially women working in agriculture. In a previous post, The Role of Social Capital in Heifer's Work, I mentioned Heifer's Theory of Change, which is a process that Heifer developed to support families and individuals move from vulnerability to sustainability.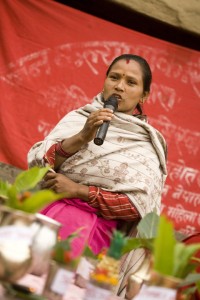 Our Theory of Change recognizes that in order for women farmers to fully maximize their capacity to feed the world, we need to ensure that we provide them with opportunities to empower them. Women need access to and control over their income and assets, they need to participate in the decision making at household and community levels (this is one of our 12 Cornerstones), and they need to hold roles of leadership.
To achieve these objectives, Heifer has developed measures implemented in ALL of our projects.
But it isn't just about saying what we are going to do; it's about seeing that work in action. In Nepal, the Women Group Coordination Committee (WGCC) is an organization that has been working with Heifer. In 1993, before the WGCC was formed, 25 women came together and approached a bank for a loan. Not surprisingly, they were denied. These women had the desire and the drive, but they lacked support. Through connections, they were introduced to Heifer. Fast forward, and the WGCC established themself as a non-governmental organization and serve as an implementing project
partner with Heifer. To date, WGCC has helped implement more than eight projects and assisted more than 7,000 families and continues to play a key role in Heifer's work. These advances have been possible because we are working with incredibly energetic women (and men) and because we have developed monitoring and measuring tools that open a pathway for women project participants to make decisions and define the outcomes they want for themselves and their families.
I met with many women during my last trip to Nepal and spoke about empowering women from within in a previous blog post. These women are incredible, and they understand how they are capable of transformation. It is my conversations with these women that have helped Heifer use our model to increase our impact, which you can read about in Heifer Nepal: How Far Can We Go to End Hunger and Poverty.
There is still much work to be done, but as I read this article from World Watch Institute, I know that Heifer is making the investment – with excellent results.