Help women around the world like Florence by giving a Heifer gift!
Florence Yotamu is the chairperson of Zambia's Twalumba Women's Draft Cattle Project, and has been divorced since 1996. She says her husband abandoned her with three sons for an educated woman. Farming was the option she turned to in order to support herself and her children. In 2000, Florence did not own any piece of land and had to rent a one acre crop field in Mwambashi area for which she was charged K5,000 ($1) per season.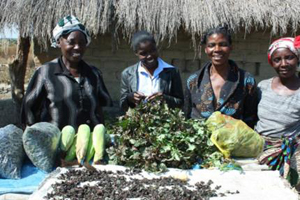 On rented land, Flo (as she is commonly known), could not produce enough grain to last the family the whole year. "Our peak production would be 11 x 50 kg bags and I would even commend myself for the harvest," she says. "My family survived like that until Heifer International introduced draft animals and training."
As a divorced mother, she is consoled by the gift of livestock from Heifer because it has made her life easier. She is now able to do most of the farm work that male-headed households do because she owns draft cattle.
My runaway husband, where ever he may be, has no role to play in the upkeep of our children, but the cattle have compensated for the loss. Flo, Zambia
She has since bought a 20 acre farm plot that she has converted into a decent farmstead. Just in front of her house are a variety of fruit trees - mango, guava, pawpaw and about 200m away from her home she has a beautiful vegetable garden with a variety of fresh green vegetables. Florence and her family were able to raise K2, 804,000 or $560 from the sale of crops, vegetables, fruits and hiring out the draft cattle in the months of May and June 2010. In this harvesting season, she got 70 x 50 kg bags of corn, which she attributes to her draft cattle and manure. She also has an abundant source of very nutritious cow milk that keeps herself and her children healthy.
Florence, being the chairlady of Twalumba, coordinates all the activities of the project and ensures that she receives timely reports from all project committees. She is proud of the progress made during her term office as she testifies that there has been tremendous change in the livelihoods of the residents of Kasompe Agricultural Camp.
She attributes a lot of the change to the project for placing draft cattle with 90 families, who received draft cattle from Heifer. More and more people in the project have built better houses and more permanent settlements. Florence and her group members have been working very hard to ensure many more families receive livestock through Passing on the Gifts.