Story and Photos by: Marina Kazaryan, Project Assistant, Heifer Georgia
Kumisi is an average village in Georgia not far from Tbilisi. People here live, hope, labor and wish for a bright future, though circumstances are not always so favorable and they have to struggle. After establishing a Farmer Association, villagers discussed and eventually agreed to start rabbit farming with support from Heifer International. "When Heifer started the project in Kumisi, not everyone was convinced of its sustainability and usefulness," said 31-year-old Beso Kakhelashvili. "However today, seeing how our households have expanded and how we keep developing, more and more people get involved."
Beso received his rabbit family in a Passing on the Gift® (POG) ceremony from his neighbor Nodar. "Nodar's family lives right next door to us. I could see how rapidly his farm grew and what benefits it brought to the family," Beso said. "So, when the time came for the first POG in the village, I decided to join." Ten four-month-old rabbits, two males and eight females, were the gifts that started what today is a successfully developing farm.
Rabbit farming is not common in this region, so Beso and his fellow villagers had a lot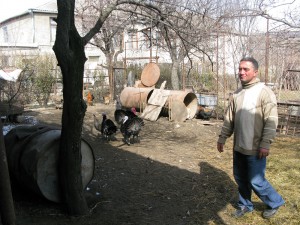 to learn. Beso participated in trainings conducted by Heifer Georgia staff, featuring experts on Heifer's 12 Cornerstones for Just and Sustainable Development, rabbit keeping, forage production, and other topics. Today, Beso happily shares the valuable knowledge he received to help others.
Beso's large family includes his grandparents, parents, brother and sister-in-law, and their young children. Before Heifer, the family owned one cow and a few beehives, but this would hardly suffice for such a large family, especially with his grandparents' pension as their only stable source of income. Their situation has changed considerably since then.
At the beginning of the project, the family's diet was enriched with rabbit meat. As their rabbit population increased, they started selling the meat. The additional income allowed them to invest in home renovations to make it more comfortable for the large family. Now they stay toasty warm, even in winter, which is notoriously snowy in Georgia. They also are able to buy new clothes, medicine for Beso's grandparents, and additional nutrition and vitamin supplements.
The Kakhelashvilis added cattle, turkeys and sheep to their farm, where Beso works with his parents. The day before our visit, the sheep gave birth to three lambs. The weather wasn't particularly warm, so, to the delight of the children, Beso and his neighbor arranged for the lambs to stay inside. Next time we have young ones, I'll get the shed appropriately prepared and arranged for any weather condition," Beso said. "My income from the rabbit farm will give me the possibility to purchase all the necessary equipment."
"The concept of 'Passing on the Gift' is very important," Beso said. "Neighbors help each other, share with and take care of each other, and that creates a special bond. This is vital in the village's life." Beso has already continued this tradition, and in 2011 gave away 10 rabbits to another family. He says he'll gladly do it again.