Once a week we will be featuring a fun and/or educational activity you can try at home or in the classroom.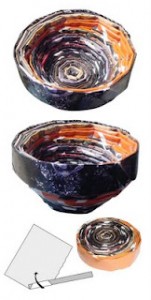 This year to help celebrate Earth Day we have compiled a number of activities you can try on a Pinterest board. One I've always wanted to try is making recycled magazine bowls. I've seen them at craft shops for the last few years and have always been intrigued by them.
All you need to do this activity is:
1" x 12" cardboard stick
Scotch tape
Magazine
Tear out the magazine pages, the more colorful, the better. Put the stick on the corner of the page and wrap the paper around it tightly, carefully folding and creasing. When done wrapping, pull the stick out add tape the corner down to prevent unwrapping. Coil the completed strip tightly, and tape the end. Each new strip is attached with tape where the last one ended. The result will be a flat roll. Keep adding strips until it is the desired size and shape it into a bowl. Apply a generous coat of Mod Podge on one side and let dry. After it is dry, coat the outside.
For a more detailed description of this activity, go to the original blog post on Art Projects for Kids. For ideas and inspiration of different bowl designs, check out these pins we found on Pinterest.
Other cool Earth Day activities can be found on the Earth Day board on Heifer's Pinterest or in the Classroom Resources section of Heifer's website.
As always, once you do this activity, we'd love to hear about your experience in the comments and/or see photos that we can share to inspire others.