Georgian honey bees return from first wintering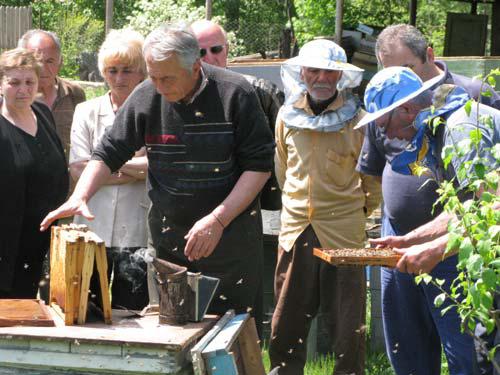 Georgian farmers in Saakadze recently welcomed the return of their honey bees. It was only last year that the villagers received the bees as a gift from Heifer. Now, after the bees were stored for hibernation over the cold Georgian winter, they have returned to buzz around the meadows surrounding the village, collecting wildflower nectar and providing a valuable agricultural product for this impoverished mountain community.
Beekeeping has a long tradition in Saakadze and their meadows are known for having some of the best wildflowers for honey in the region. With Heifer's gift of beehives the 165 households in the village will be able to turn this potential into profits with which the community can build a hopeful future.
The practice is an art and science, and in Saakadze much of the training in the care of hives came from beekeepers within the community who were willing to share their knowledge so that their entire village could prosper. These local beekeepers instructed participants on everything from carrying for the queen bee to splitting one hive into two.
Heifer Georgia Staff also offered training to the project participants on processing the honey and marketing it as a value-added product so that the village can gain the greatest profit out of their hives.
By working with local experts and tradition, this Heifer bee project is already a success. All Heifer had to do was to provide the gift of beehives and marketing help to enable these poor Georgian farmers to go to work on the path toward improved incomes and better lives.
Want to receive the latest news and information from Heifer projects around the world? Sign up our newsletter and email.