You can do your part to fulfill the dreams of another family by donating toward a Heifer cow today.
Debed, a village set deep in mountain passes of the Lori region of Armenia, is a place as beautiful as it is harsh. The winters here are long, running from September to May, and the roads are all but closed during much of that time.
The growing season is short and intense. In the late summer the women of Debed can be found sitting in long rows sorting potatoes. They sing in unison and make jokes, confident that work is faster when its fun.
Most of the soil around the village is arable, but without a means to till most of the land, agriculture is limited to home gardening. Cattle-breeding is the principal occupation of most villagers.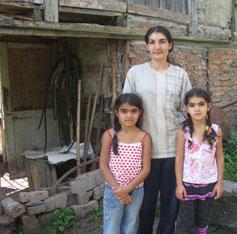 The difficult lives of families in Debed are beginning to improve through a partnership between Heifer Armenia and the Fuller Center for Housing Armenia. One of the families who have experienced tangible change and improvement of their livelihood is the Petrosyan family.
This family of eight has been trying to save money to buy a cow for ten years, but the expenses of the large and growing family have prevented them from being able to save the money on their own. But a cow made its way into their lives nonetheless, when the Petrosyan's were selected to receive a Heifer cow and a new home.
This autumn brought us two miracles in one place

Seryozha, Armenia
"This autumn brought us two miracles in one place," said Seryozha Petrosyan, the grandfather of the family, "Before this we could only dream about a comfortable house and an opportunity to have our own small farm. Now, after ten years of expectations, ten years of hard work, we can see our dreams coming true. It's really a fortune because a cow is everything for a rural family. A cow means a stable source of nutrition and dairy products for our children and grandchildren. Now we can start our small farm and we are going to do our best to pass the best heifer to another family in the fall of 2012. Thanks Heifer for the happiness we have now, little by little our dreams are coming true."