Chickens provide eggs, and eggs contain one of the highest-quality proteins of any food. Protein provides energy and nutrition for healthy bodies.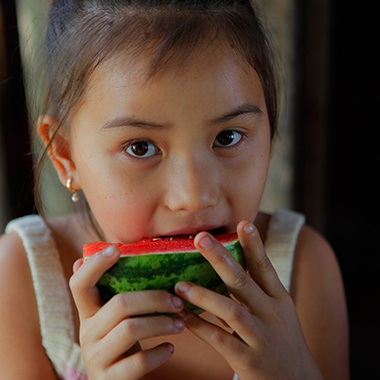 This basket includes fruit and vegetables seeds necessary to start a small but diverse farm and chickens to help maintain it. Children benefit from varied nutrients they once didn't have.
One goat can provide four quarts of milk a day, which means that eight children could receive the recommended two glasses of milk a day.
The Gift of Fish Fingerlings
Teach a man to fish and you'll not only feed him for a lifetime, but also provide children with a source of lean, healthy proteins and extra income.
Cows can provide gallons upon gallons of milk that can be transformed into cheese, yogurts or other healthy products. Cow manure can also help increase crop yields providing families more, and more nutritious foods.
Heifer's Impact on Nutrition
A nutrition study being conducted by the University of Illinois of 300 Heifer farmer families in Zambia indicates livestock significantly impacts the diets of families living in poverty, increasing the amount a family eats, diversifying the types of foods consumed and also providing families more income.
Families given dairy cows increased milk consumption from once per week to six times per week
Families reported an increase of as much as 20 percent in dietary diversity, an indicator of food security
Income from animal products rose by up to 800 percent, depending on the animal received
Families spent their increased income on more diverse foods for their families
Evidence from the Field