In This Article
In Bangladesh, the COVID-19 pandemic and the country's subsequent lockdown have combined to create difficult economic realities for many people.
According to another recent survey from the Bangladesh Institute of Development Studies, about 13% of people are unemployed in the country due to the COVID-19 pandemic.
In this context, Heifer cooperatives are finding ways to support their members who are struggling.
The cooperatives provided 600 members with rice, lentils, cooking oil and soap.
As the pandemic continues across the world, the outbreak is negatively impacting economies globally. In Bangladesh, the government declared a countrywide general holiday and lockdown from March through May 2020. Then, the government issued an order of conditional overall activities and movement restrictions until August 3.
The sudden lockdown and conditional activities have negatively impacted the livelihoods of many people in Bangladesh. The prices of agricultural products have fallen, especially milk and dairy products; crops remain unharvested, unsold and unpreserved. Small businesses, retail and service sectors are also badly affected by the lockdown. Among other things, has profoundly disrupted the supply of seeds, pesticides and agricultural tools.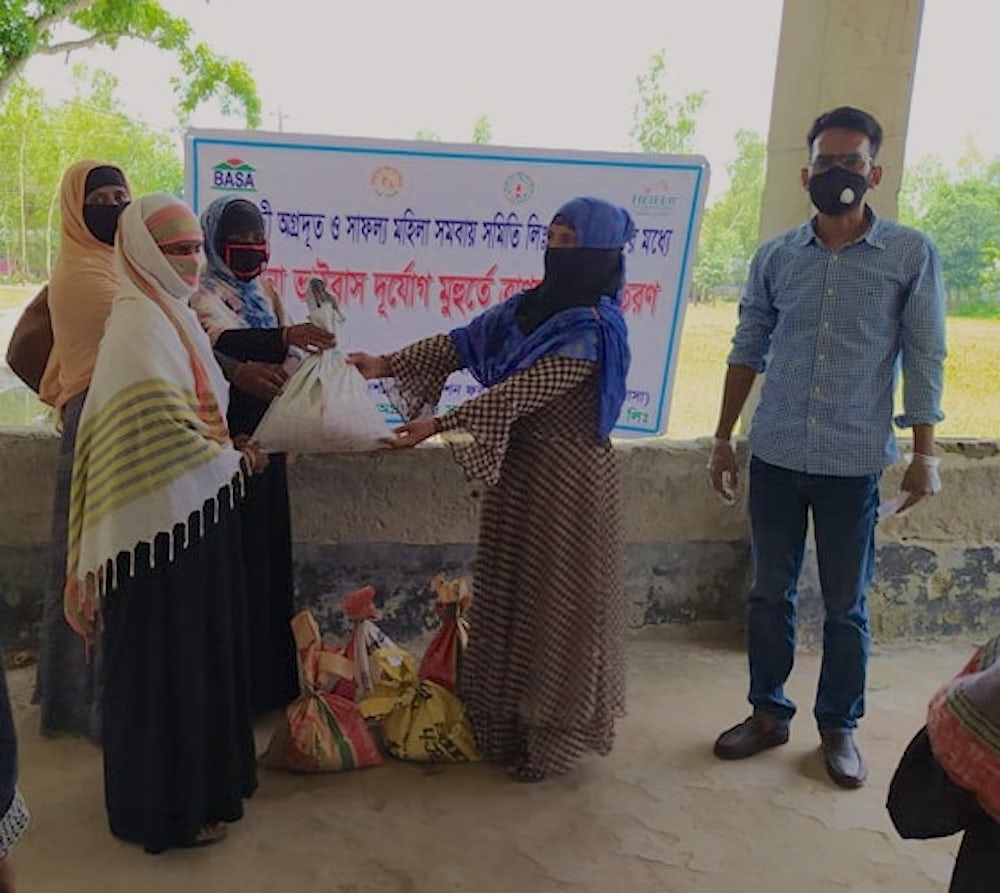 Additionally, the mass migration of people from urban to rural areas because of sudden unemployment exacerbated this hardship. According to the Bangladesh Institute of Labor Studies, 3 million domestic workers across the country have either completely lost their jobs or have suffered cuts in income. According to another survey from the Bangladesh Institute of Development Studies, about 13% of people are unemployed in the country due to the COVID-19 pandemic. The survey also revealed that Bangladesh will have 16.4 million people newly living in poverty in 2020, as the incomes of the working class in urban and rural areas have fallen sharply due to the lockdown to stop the spread of the virus.
The Vhangabari Union community in the Sirajganj District became overwhelmed with the lockdown. The main sources of income for this community are agriculture (crops, livestock and aquaculture) and working in the loom and cotton industry, but the sudden lockdown slowed or stopped those activities. About 90% of the community is struggling with drastically reduced income and a lack of employment opportunities. Heifer Bangladesh started working in this community in 2014 with local partner Bangladesh Association for Social Advancement, forming two cooperatives in 2015: Agradut and Shafollo Mohila Shomobai Shomity Ltd. The cooperatives have 1,900 women members.
When COVID-19 arrived, these two cooperatives held firm to their central tenants: expressing care for and solidarity with their members. The cooperatives organized a special meeting last April and decided to support its 600 most-affected members using the co-ops' funds. The cooperatives spent BDT 142,000 (about $1,672) on 600 members by providing rice, lentils, cooking oil and soap to each member during early May. In addition to food aid support, the cooperatives created awareness on personal hygiene and social distancing in the community, which are keys to protecting against COVID-19. The cooperatives also engaged the local government and administration with their activities. Among others Gazi Fazlul Haque Vhasani, Chairman of Vhangabari Union and Sirajul Islam, Cooperative Officer of Belkuchi Upazila attended during food aid disbursements.
"I am so happy to have the support from our cooperatives," co-op member Halima Begum said. "I will always remember this support as they provided during this crisis period."
Afroza Begum, the president of Agradut Cooperative, said that "Heifer's 12 Cornerstones taught us to care for other people in need. We feel proud to provide support to our members."
By Subrata Chowdhury, senior training manager
Contributions by Nazmul Sarker, senior program manager, Market Systems and Enterprise Development
Create Compassionate Communities
Your donation helps communities build group savings that allow them to lend a compassionate hand during disasters like the current pandemic.