Heifer International in Cambodia receives ASEAN award
Heifer International in Cambodia has received the "Leadership Award for Rural Development and Poverty Eradication" from the Association of Southeast Asian Nations.
The honor recognizes the outstanding contributions by non-government organizations and companies toward rural community development and poverty eradication. The award was presented to 10 NGOs and 10 companies working in ASEAN nations.
During a ceremony in Kuala Lumpur, the award was presented to Keang Keo, the country director in Cambodia for Heifer International, a nonprofit working to end hunger and poverty with business development and sustainable farming with crops and livestock.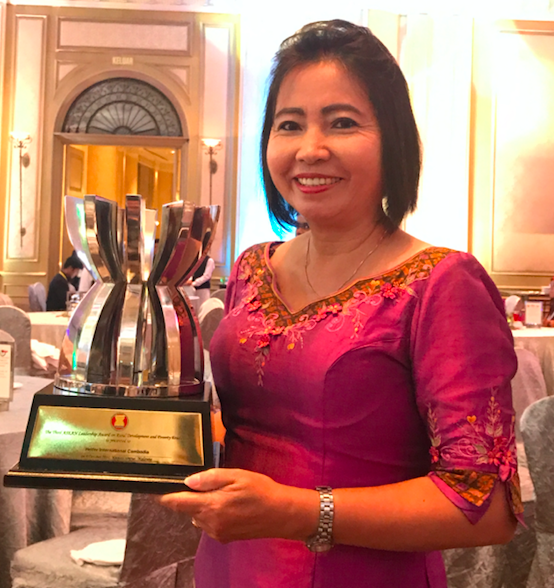 "We are honored to receive this award from ASEAN. It not only recognizes the success of our projects but also the determination and ability of the farming families we've worked with to escape poverty and earn a living income," Keang Keo said. "But there are still many people struggling to survive, so we're ready and eager to expand our projects with the continued support of the government, private sector, partners and donors."
Heifer began working with small-scale farmers in Cambodia in 1984 and opened an office in the capital, Phnom Penh, in 1999. The focus of the organization's work has included women's empowerment; income and food security; social capital or community building; and water, sanitation, and the environment.
Over the past 17 years in Cambodia, Heifer has:
Supported 45,700 small-scale farming families.
Provided 29,825 swine and 136,357 chickens to farmers.
Helped organize 2,254 self-help groups that empower women.
"The farming families we're working with in Cambodia are inspiring examples of how sustainable agriculture and entrepreneurship can change lives and communities," said Pierre Ferrari, president and CEO of Heifer. "The families have become models of excellence for the many other countries where Heifer works."
ABOUT HEIFER INTERNATIONAL
Heifer's mission is to end hunger and poverty while caring for the Earth. For more than 70 years, Heifer International has provided livestock and environmentally sound agricultural training to improve the lives of those who struggle daily for reliable sources of food and income. Heifer is currently working in nearly 30 countries, including the United States, to help families and communities become more self-reliant. For information, visit Heifer.org, read our blog, follow us on Facebook, on Twitter or call 888.5HUNGER (888.548.6437).