Explore This Section
Heifer Ranch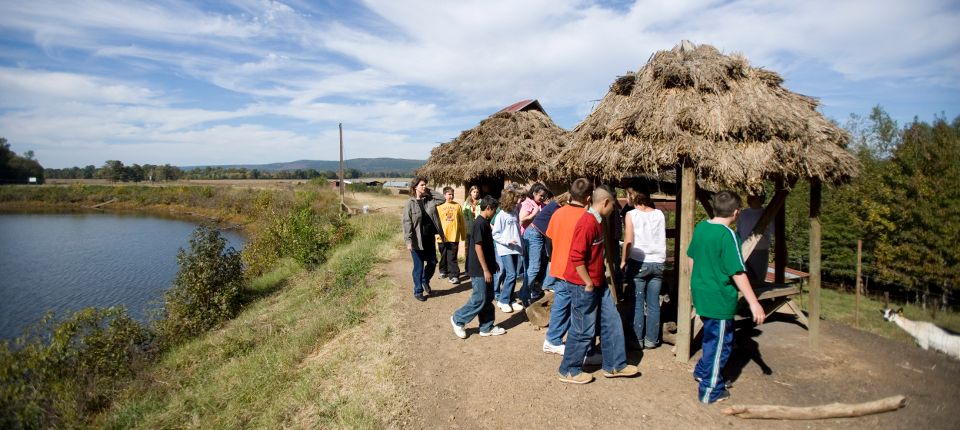 You don't have to be a cowhand to come on out to the Ranch!
Heifer Ranch
Perryville, Arkansas
55 Heifer Road
Perryville, AR 72126
Monday – Saturday:
9 a.m. – 5 p.m.
Phone: 855-3HEIFER (855-343-4337)
An educational farm in rural Perryville, AR, the 1,200-acre Heifer Ranch is filled with gardens and livestock, including goats, pigs, llamas and more. Come meet the animals and take part in our hands-on, interactive programs and activities promoting sustainable solutions to global hunger, poverty and environmental degradation.
Heifer Ranch makes for a fun destination for an experience you won't forget!
Heifer Ranch Programs
Discover Heifer
Two hour Program
All Ages
A guided tour and introductory video show how Heifer is improving millions of lives around the world. Experience the sustainable agricultural practices that Heifer supports as you explore our gardens and livestock areas.
Animal Connections
Two Hour Program
All Ages
Learn about the many benefits animals provide during a tour of the Ranch animals, Heifer's Global Village and during hands-on activities such as goat milking.
Global Gateway
One-Night or Two-Night Program
6th Grade and Up
Global Gateway creates an existence in which nothing - shelter, food, water or cooking fuel - can be taken for granted. Participants prepare a meal with limited resources and spend a night in the Global Village.
Global Challenge
Two-Night
6th Grade and Up
Global Challenge pairs the Global Gateway experience with globally-themed team-building exercises that develop communication skills within your group while exploring Heifer's guiding principles.
Alternative Break
Five-Night Program
6th Grade and Up
Alternative Break combines experiential learning programs, such as the Global Gateway experience and team building, with service activities. The service allows participants to give back while experiencing something for the first time like milking a goat or harvesting vegetables.
Women's Lambing
Two-Night or Three-Night Program
Women Age 14 and Up
Dates Available 2017
March 10-12
March 16-19
During the lambing season at Heifer Ranch, experience a blend of facilitated discussions, experiential learning activities, hands-on animal work and the camaraderie of living and learning with a diverse group of women while focusing on Heifer's work to empower women through sustainable agriculture.
Download the Lambing Registration Packet

Request More Information
Request More Information
Please fill out the information request form and someone will contact you shortly.
To get more information about Heifer Ranch and programs, please call 855-3HEIFER (855-343-4337) or email reservations@heifer.org.