Explore This Section
Heifer Ranch: A History
In our first 27 years, small farms across the United States served as breeding and holding areas for livestock until they were ready for shipment. When we received a gift of approximately 2,000 Angus cattle, the need for more acreage became crucial.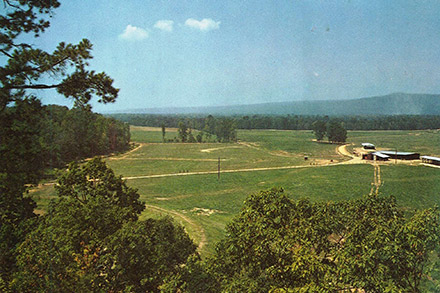 We discovered Fourche River Ranch—1,200 acres of pastureland, 65 miles of fences, more than a dozen homes and barns, and bounded on three sides by the Fourche LaFavre River—just three miles south of Perryville, Arkansas.
On May 28, 1971, William E. Darby, a businessman and philanthropist, sold us the ranch and donated 50 cattle with the sale.
Following our move to Little Rock from St. Louis, we began a capital campaign to pay for Heifer Ranch. Arkansans received us warmly. Donors came from all over the country to visit. Many gave for the right to "own" an acre, inspect the herds and fish in the river "for as long as the sun shines and the river runs into the sea." Heifer Ranch was paid for in five years.
Heifer Ranch was the ideal location for a holding farm.
In the last 40 years, our purpose has evolved. The Ranch no longer serves as a holding farm for shipments of livestock, as we almost exclusively source livestock from the countries in which we work.
Now, the primary purpose of Heifer Ranch is as a Learning Center. We use 250 acres for educational purposes and lease the remainder of our acreage to other ranchers in the area.
Visitors learn about the root causes of hunger and poverty and the ways in which livestock and people can make a difference. At Heifer Ranch, we practice and teach stewardship of the land, environmental care, livestock management and appropriate technology.