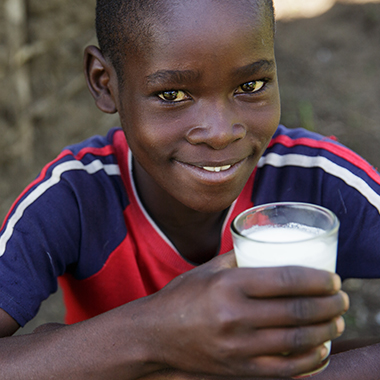 East Africa Dairy Development II
Heifer in East Africa
Providing families with animals that produce milk in abundance is one of the best solutions we have to hunger and malnutrion. Yet, milk has even more power than that. In hundreds of communities, milk is at the heart of thriving dairy cooperatives that provide new and sustainable prosperity. With your donation, once-isolated families become part of communities that are remaking lives and reclaiming futures.
Heifer in East Africa since 1973
Scope: 136,000 farm families in Kenya, Tanzania and Uganda
Participants receive training to breed better cattle, milk chilling stations, cooling tanks and collection hubs, marketing support, village banking, and gender equity training
Ignite Milk's Power to Fortify Families and Communities
To develop the tremendous potential of dairy farming in this region, Heifer launched the East Africa Dairy Development Project in 2008. In its first five years, EADD trained more than 200,000 dairy farmers to better manage their cows and maximize their milk production.

Your support of Phase II of EADD will bring these transformational benefits to another 136,000 farmers and their families. You'll help organize local cooperatives to create the infrastructure for a thriving, professional dairy industry. This includes collection hubs with refrigerated chilling stations to keep milk from spoiling; efficient and affordable milk transport between farms and hubs; and bottling, packaging and delivery systems to bring milk to markets and customers on a reliable basis.
These milk hubs will become economic hubs as well. Cooperative savings and loan funds will enable farmers to finance the purchase of land, equipment and other needs. Joint marketing and purchasing abilities will lower costs and increase earnings. Health care projects will serve members and their families.
East Africa Dairy Development