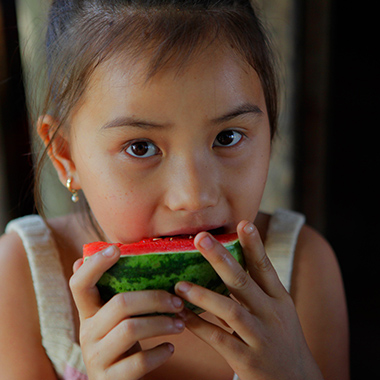 Gift of a Boost of Nutrition
Give Families the Power to Feed Themselves
This basket includes fruit and vegetable seeds to start a small farm, chickens to raise and help maintain it, and training in sustainable farming and nutrition. When you donate a boost of nutrition, your gift:
Provides vitamins and protein for better nourishment
Gives families a head start in beating hunger and poverty
Families who don't have enough to eat often rely on handouts from emergency relief organizations. Still, malnutrition and hunger-related diseases claim more lives each year than tuberculosis, AIDS and malaria combined.
Heifer's answer is to give families the power to feed themselves. We train millions in sustainable agriculture. We provide livestock for a daily source of income and nutrition. And by Passing on the Gift, we help communities work together to create a better life for future generations.
This Gift Provides:

Nutrition
Health and Sanitation
Steady, Dependable Income
Passing on the Gift
Education and Training
Fertilizer
Women's Empowerment
School Fees and Supplies
Improved Environment