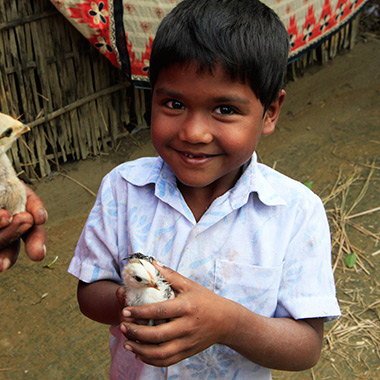 Gift of a Flock of Chicks
Flock of Chicks Changes Lives
Your gift of a flock of chickens gift donation helps provide a family in need with a starter flock of 10 to 50 chicks, along with the training that will empower them to turn your donation into a lifetime of opportunity. Each flock of chicks:
Provides eggs and protein for nourishment
Boosts income through sales of extra eggs and offspring
Ensures security for generations through Passing on the Gift
Chickens require little space and can thrive on readily available scraps; this allows families to make money from the birds without spending much. And since a good hen can lay up to 200 eggs a year, your flock of chickens gift provides a steady source of nutrition and income.
This Gift Provides:

Nutrition
Steady, Dependable Income
Passing on the Gift
Education and Training
Fertilizer
Increased Crop Yield
Health and Sanitation
Women's Empowerment
Improved Environment