Explore This Section
Seagoing Cowboys: Part of Heifer's History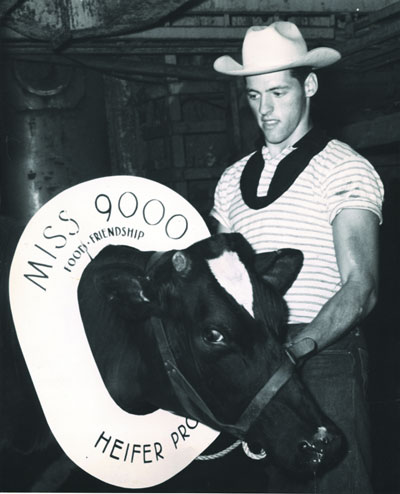 These days, Heifer International generally provides animals to participating families through local channels in the countries we serve. But early on, the organization shipped livestock from the United States to other countries. During their travels, these animals were cared for by "seagoing cowboys": ranchers and farmers who aided Heifer in its mission by lending their expertise in animal husbandry and agriculture.
In the years following World War II, more than 7,000 men and women accompanied shipments of cattle, pigs, goats and other livestock across land, sea and air to deliver them to families in Europe. For many of them, these trips presented a series of firsts — the first time setting sail on a ship, the first time crossing the ocean and the first time visiting another culture. For many of these seagoing cowboys, their faith was tested as they witnessed the devastation of the war, but came away with a renewed sense of hope and purpose after helping families in need.
What a humbling experience when all you have done is feed and care for the animals generously given by others... The emotions of that moment have lasted me a lifetime. Bill E. Beck, cowboy
You can experience what they did through this compilation of journal entries and recollections entitled Cowboy Memories, edited by Bill Beck and Mel West. Read about the early life of Heifer International and how these men and women got bees and goats to Korea, horses to Poland and East Germany, and rabbits and pigs to Guatemala. Take a look back in time as the original seagoing cowboys share their journey to end hunger and poverty. Order Cowboy Memories from Shop@Heifer today.
Heifer's mission to ending poverty and hunger would not have been possible without seagoing cowboys.
Meet the Seagoing Cowboys
With its 70th birthday celebrations this year, Heifer International called the cowboys home to honor their immeasurable contributions. A few of them shared their stories with us.
Peggy Reiff Miller
"I realized, as I interviewed these men, how much it meant to them. This was a formative time in their lives."

Merle Crouse
"Welcome to the experience of being a seagoing cowboy."

Howard Lord
"It was a total change of life; I was never the same. It was almost like starting life all over again."

Richard Reiste
"I had so much more appreciation for everything. I had a sense and a desire to learn about other people."

Donald Struchen
"No amount of money would be as valuable as this summer adventure was to me."

Arthur Kennel
"I derived some satisfaction to know that I had been permitted to do my bit, however small."