Heifer Peru
26%Rely on agriculture for livelihood
3%Live below poverty line
Twenty-two percent of Peru's population live in rural areas. The World Bank reports that 19 percent of its land area is used for agricultural purposes and about 26 percent of its total population rely on agriculture for their livelihoods.

Peru rates 82 out of 187 countries according to the United Nation's Human Development Index (2014). Three percent of its 30 million people live below the poverty line, on $1.25 a day, and four and a half percent of children under 5 are malnourished
Our Work In Peru
Families living in Andean countries are vulnerable to hunger and poverty— especially indigenous and rural populations of the Andean Basin. Heifer Peru works with many of these families to create long-lasting change, such as more income and better diets.

We provide small-scale farmers, including women, with gifts of animals, seeds, equipment and training that help them increase their income. We also teach farmers how to grow enough food for his or her family in an Earth-friendly, sustainable way.

Through our programs, farmers gain access to better tools and find buyers for their products. We also train farmers in political advocacy so they can lobby for access to and control of their natural resources.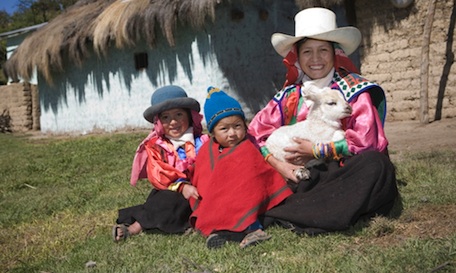 Women's Empowerment

Full Participation, Leadership Training, Asset Ownership, Market Training

Increased Income

Enterprise and Value Chain Development, Entrepreneurship

Social Capital

Passing on the Gift®, 12 Cornerstones for Just and Sustainable Development, Farmer Exchange Visits, Government Alliances, Information and Communication Technologies

Nutrition

Animal and Crop Management, Dietary Diversification, Vegetable Gardening, Food System Development, Food Security, Healthy Homes

Environment

Natural Resource Management, Agroecology, Agroforestry, Policy Development
Programs and Projects
PROMESA

Economic Improvement and Food Security in Coffee, Cocoa, and Other Crop Commodities

GANASOL

Livestock and Sustainable Agriculture on Latin American Hillsides

SAN SECO

Food and Nutritional Security in the Central and South American Dry Corridor

PACHA

The Andean Plateau, Paramo, Camelid and Yarn
Contact
Heifer International Peru
Av. Brasil N° 2948 Magdalena del Mar, Lima 17 – Perú