Heifer Nepal
25%Live Below the Poverty Line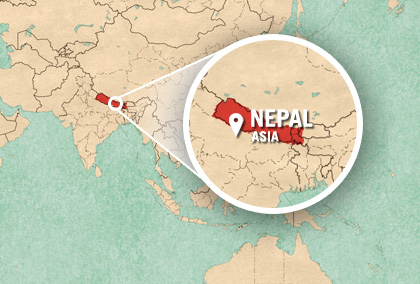 Approximately 82 percent of Nepal's population live in rural areas. The World Bank reports that 66 percent of its total population rely on agriculture for their livelihoods and 29 percent of its land area is used for agricultural purposes.
Nepal ranks 145 out of 187 countries according to the United Nation's Human Development Index (2014). About 25 percent of its 28.12 million people live below the poverty line, or $1.25 a day,
and 6 percent of its children under 5 are malnourished.
Our Work In Nepal
Our 10 year (through 2023) goat and dairy value chain program complements the government's goal of poverty reduction and economic growth by strengthening small scale-farmers' access to the goat meat and dairy value chains. The program focuses on wealth creation by strengthening farmer- owned cooperatives and promotion of goat meat and dairy production. By 2023, we will bring 500,000 families from a state of poverty and vulnerability to sustainability and resilience. We also seek to lower importation of goat meat and dairy by 50 percent and 25 percent respectively, thereby providing a larger market to local farmers.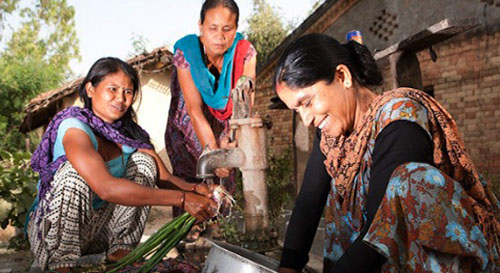 Women's Empowerment

Leadership training, Business acquisition

Increased Income

High-quality livestock, Crop diversification Cooperatives, Value chain development

Social Capital

Passing on the Gift®, 12 Cornerstones for Just and Sustainable Development, Group savings

Nutrition

Vegetable gardening, Nutrition training

Environment

Natural resource management, Agroecology, Organic gardening, Biogas, Improved cookstoves
Programs and Projects
Strengthening Smallholder Enterprises of Livestock Value Chain for Poverty Reduction and Economic Growth in Nepal (SLVC)
Kisankalagi Unnat Biu-Bijan Karyakram (Improved Seeds for Farmers Program)
Evaluating the Welfare Impacts of a Livestock Transfer Program in Nepal
Providing Intermediate/Bridging Support to Flood and Landslide Victims in Heifer Project Areas
Contact
Heifer International Nepal
G.P.O. Box 6043, Kathmandu