Heifer Bangladesh
43%Live Below the Poverty Line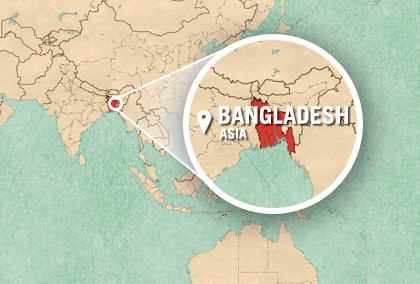 Approximately 67 percent of Bangladesh's population live in rural areas. The World Bank reports that 48 percent of Bangladesh's total population rely on agriculture for their livelihoods and 70 percent of its land area is used for agricultural purposes.
Bangladesh ranks 142 out of 187 countries according to the United Nation's Human Development Index (2014). About 43 percent of its 56.6 million people live below the poverty line, on $1.25 a day, and 37 percent of its children under 5 are malnourished.
Our Work In Bangladesh
By 2020, we will focus on two commodities in which Bangladesh is currently not self-sufficient and thus dependent on imports: meat and dairy. Through working in these two commodities, we will not only be able bring poor small- scale farmers to a position of resiliency, but also be poised to leverage support and collaboration from other stakeholders in the government and private sector with similar priorities. The program will work with various other actors in the livestock value chains to create an enabling environment, all with a focus to address the issues of rural small-scale farmers.
Women's Empowerment

Leadership training, Women's groups and cooperatives, Gender justice training

Increased Income

Animal and crop management, Financial management, Value chain development

Social Capital

Passing on the Gift®, 12 Cornerstones for Just and Sustainable Development Cooperative development, Group savings

Nutrition

Vegetable gardening, Nutrition training

Environment

Natural resource management, Disaster risk reduction, Agroforestry
Programs and Projects
Elimination of Extreme Poverty and Food Insecurity through Community Empowerment
Ensuring Sustainable Livelihoods of Smallholder Farmers through Beef and Dairy Value Chain Enterprises (ESL)
Contact
Heifer International Bangladesh
Lalmatia Housing Estate, Mohammedpur, Dhaka-1207, Bangladesh