Heifer Uganda
38%Below the poverty line
14%Children under 5 are malnourished
66%Rely on agriculture for livelihood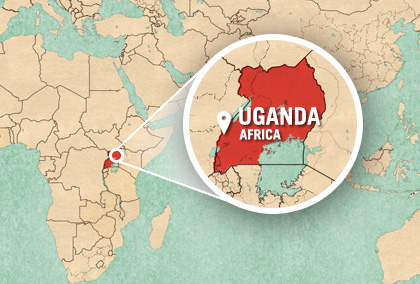 Since 1990, Uganda has made great strides in reducing extreme hunger and poverty. According to the United Nations Development Programme (UNDP), Uganda reduced hunger by 15 percent, but under nutrition increased by 30 percent (UNDP). Uganda ranks 164 out of 187 countries according to the United Nation's Human Development Index (2014). Almost 38 percent of its 85 million people live below the poverty line, or $1.25 a day, and 14 percent of its children under 5 are malnourished.
Eighty-five percent of Uganda's population live in rural areas. Seventy-one percent of its land area is used for agricultural purposes and 66 percent of its total population relies on agriculture for its livelihood, indicating the importance of livestock and crops for small-scale farmers.
Our Work In Uganda
In Uganda, we work closely with communities and invest in local capacity and appropriate technologies, as well as provide livestock and other agricultural resources. We have created a unique approach to sustainable livelihood development that builds on social capital and creates social justice. Our strategy is anchored in the 12 Cornerstones for Just and Sustainable Development, including the practice of Passing on the Gift® (POG). Families that receive resources from our programs—such as livestock, seeds or training—share the first offspring, training, seeds, farm equipment and support to other families in need in their community. The practice of POG allows the receiver to become the giver and creates social capital.
Women's Empowerment

Leadership training, Business acquisition Animal ownership, Participation

Increased Income

Value chain access

Social Capital

HIV/AIDS trainings, 12 Cornerstones for Just and Sustainable Development, Passing on the Gift®

Nutrition

Farm diversity, Food security, Nutrition training

Environment

Appropriate technology, Agroecology Biogas, Improved cookstoves, Climate change adaptation
Programs and Projects
Care and Livelihoods Integrated Project
East Africa Dairy Development Project (EADD)
Integrated Dairy Livelihood Project
Climate Change Smart Options Project
Dairy Goat Project for HIV/AIDs Project
Contact
Heifer International Uganda
Plot 6 Clement Road, Nakasero P.O. Box 28491, Kampala, Uganda