Explore This Section
Heifer's Work in Uganda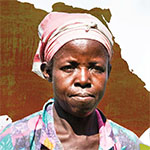 State of the African Farmer
The State of the African Farmer report has been produced as a contribution to the great debate on agriculture and food security in Africa. It is a compilation of views and voices of farmers, practitioners, policymakers and academics across Africa and beyond, each speaking from the heart and sharing their experience.
Country Overview
Straddling the equator in East Africa, Uganda earned the nickname "Pearl of Africa" for its natural beauty. During the civil wars of the 70's and the 80's, Uganda suffered great losses in both economic and social capital. Since 1986, Uganda has had relative peace and stability in most parts of the country allowing the government to implement policies to stimulate economic development. This has been with the exception of Northern Uganda.
Uganda's land expanse covers a surface area of 93,064 sq miles, with 82 percent of it suitable for agriculture. The country can be divided into five agroecological zones – including sub-humid and humid, arid and semi-arid in northeast region and part of southern; and highlands in the east and southwestern regions.
In Uganda, 1.8 million children are orphans as a result of the HIV/AIDS pandemic and the civil strife experienced over the last two decades.
Eighty-eight percent of the population live in rural areas. Up to 49 percent of Uganda's population are children under 15 years of age; 1.8 million are orphans as a result of the HIV/AIDS pandemic and the civil strife experienced over the last two decades. More than two-thirds of the total population is literate. However, despite the significantly high levels of literacy, up to five million Ugandans above 10 years of age are illiterate.
Heifer Uganda
As a result of civil wars in the late 1970's and early 1980's, Uganda's economy and agriculture was left in ruins. Heifer International began its operations in Uganda in 1982 following a request by the Church of Uganda to Heifer to rehabilitate post-Amin Uganda.
Heifer Uganda will contribute to ending world hunger and poverty and environmental degradation reflected by the following changes: increased household income, improved assets and national GDP; improved food security and nutrition; increased employment opportunities; improved maternal health and reduced child mortality through better nutrition for women and children and increased income; strong and organized cooperatives, associations and apex bodies; influencing policy at local, national, regional and international levels; reduced population growth; increase access to safe water; reduced effects of climate change such as carbon emissions; global warming; impacts of HIV/AIDS on human development mitigated and fair trade across countries; gender equity and women's empowerment.