Explore This Section
Heifer's Work in South Africa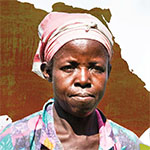 State of the African Farmer
The State of the African Farmer report has been produced as a contribution to the great debate on agriculture and food security in Africa. It is a compilation of views and voices of farmers, practitioners, policymakers and academics across Africa and beyond, each speaking from the heart and sharing their experience.
Country Overview
South Africa is about 1.2 million square kilometers in size. Its terrain is made up of plateau, savannah, desert, mountains and coastal plains. There are eleven official languages, including Afrikaans, English, isiNdebele and isiXhosa. Christianity is the predominant religion.
South Africa's turbulent and difficult history has resulted in extreme inequality. 11 million South Africans face serious poverty and hunger every day.
South Africa has a dual agricultural economy: a well-developed commercial sector and a predominantly subsistence sector. About 12 percent of the country can be used for crop production. High-potential arable land comprises only 22 percent of total arable land. Some 1.3 million hectares are under irrigation. Agricultural activities range from intensive crop production and mixed farming to cattle ranching in the bushveld and sheep farming in the more arid regions.

In South Africa, 5.6 million people are estimated to be living with HIV and AIDS, more than in any other country. It is believed that in 2009, an estimated 310,000 South Africans died of AIDS. Prevalence is 17.8 percent among those aged 15-49, with some age groups being particularly affected. Almost one-in-three women aged 25-29, and over a quarter of men aged 30-34, are living with HIV.
Unemployment is estimated at 24.5 percent. Close to 15 million South Africans receive social grants from the State. It is estimated that at least 50 percent of the country's population lives below the poverty line.
Heifer South Africa
Heifer began programs in South Africa before establishing an office. The reasoning was to contribute to the integration and social justice of South Africa. This country had been plagued by years of white-only rule. The close proximity of our offices in Zimbabwe allowed for supervision to transpire without having to expend the cost of establishing an office in South Africa.

Heifer did, however, launch a country program in South Africa in 1997. The program started out small but has since fulfilled its goal to build a substantial program over five years that is managed by local staff, controlled by a local board and supported by local and international fundraising.
As of 2006, Heifer South Africa was officially recognized as a Legally Separate Entity (LSE). LSEs operate autonomously but with financial support from Heifer International that provides the funding for operational expenses and offers assistance in funding locally run Heifer projects. Heifer South Africa has a strong fundraising program and uses those funds to implement projects.