Explore This Section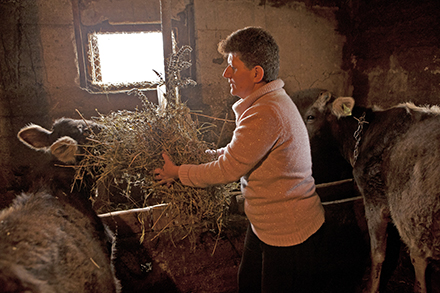 Zero-grazing
Eco-Friendly Animal Management
Zero-grazing is an approach to animal management in which families contain livestock in an enclosed, shaded area. Farmers carry fodder and water to them and provide them with daily exercise instead of letting them wander in the open where they are more likely to catch diseases or damage the environment.
Scarce resources play a major role in the environmental problems of many countries. Impoverished people often must make short-term choices based solely on their desperate need for food. Many farmers have no alternative to cutting trees for firewood or putting animals on overgrazed land — practices that can harm the earth.
Benefits of a zero-grazing pen include...
Reduced contact with disease
Easy, sanitary collection of manure
Less damage to ecosystems
Manageable breeding
Decreased mortality rate
Protection from predators
Heifer is a pioneer in combining hunger and environmental concerns. Animals provide food and income while serving as a catalyst for many changes that benefit the earth. Heifer believes that development must be sustainable — projects should be long-term investments in the future of people and, ultimately, the planet. That's why Heifer teaches partners environmentally sound farming methods.
Extensive grazing takes energy from the animal for moving over long distances to obtain sufficient grass. So rearing in a zero-grazing unit, with some daily exercise provided, saves the energy for growth, meat and milk production.
Through Heifer training, families learn how to keep their small plots of land healthy and renew the soil for future generations by planting trees and using natural fertilizer. Each year Heifer introduces thousands of farm families to zero-grazing or managed grazing techniques.
You can find out more about how caring for the environment is crucial to ending hunger and poverty.