Explore This Section
Answering Today's Global Challenges
In Every Challenge We See Possibility for Change
It's easier than you think to create incredible positive change in the world. We've seen significant strides made in ending hunger and poverty just in the last 20 years. And research shows that when investments are made in the world's 2.6 billion small-scale farmers, agriculture can make twice the impact on poverty as growth in other areas.
If we can help increase the productivity of these small farms, our farmers will be the ones feeding the world. But these small-scale farmers need support in more areas than just on their land. That's why we work to provide access to education, improved sanitation, better water sources—things that will provide better health, more income and, ultimately, a clearer path out of poverty. The improvements in these areas are undeniable:
In the last 20 years more than 2 billion people have gained access to clean drinking water.
Globally, the number of workers living below the $1.25 a day poverty line has reduced by 294 million since 2001.
Worldwide, maternal deaths have decreased by 47 percent since 1990.
More girls than ever are attending school, and there are now 95 literate girls for every 100 literate boys.
But imagine what the world might look like if there were 100 literate girls for every 100 literate boys. Imagine if every woman, child and family had the opportunity to build a promising future, a future that affected the world in a positive way. We're addressing these challenges, providing resources, empowering women and improving the environment every day. We are fueling the social change that will help us end poverty and hunger. And you can help. Let's make a huge difference together.
Real, Positive Change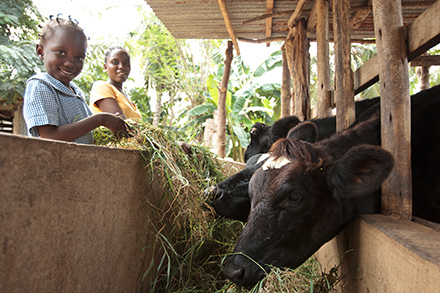 In each of our projects, Heifer strives to address the underlying issues that keep people from overcoming hunger and poverty. That's why empowering women, providing access to education, bettering the environment and improving health and incomes are so important. The sum of all these parts we call social capital. Our farmers increase their social capital when each area of their lives is improved. Through social capital, Heifer project participants are able to organize and strengthen their existing groups and enhance their values.
Every element of our projects affects social capital, and thus, social change — the transformation of communities and their people so they lead happier, healthier and more productive lives.