Explore This Section
Arlene Falk Withers
Glendale, CA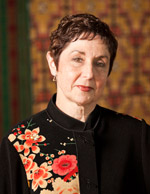 Arlene Withers was elected Chair of the Board October 2013 after serving two three-years terms of service, spending one year as Vice Chair.
Withers has served the Heifer Board for seven years in various roles including as Board Vice Chair and Chair of the Audit Committee. She has experienced Heifer's work on the ground in several countries including Cambodia, Viet Nam, Rwanda, Nepal and the United States.
Professionally, Withers currently serves as the National Director of Organizational and Employee Development for SAG-AFTRA, the union representing 165,000 performers and broadcasters in the entertainment industry. In that capacity, she is responsible for employee engagement, training and development, employee communications, performance management, and executive coaching. Withers is a certified mediator and holds coaching certifications from California State University–Long Beach and Fielding Graduate University, and is a Professional Certified Coach, or PCC, as designated by the International Coach Federation.
Withers' interest in Heifer started with a study tour to Asia a decade ago. The primarily women-run projects were a big draw for her. Through her work on a variety of boards, Withers has realized progress in social issues specifically those that affect women and children such as health care and economic empowerment. She is past vice president of California Women Lawyers Association and served for many years on the boards of the Women Lawyers Association of Los Angeles, Fielding Graduate University and the Partners in Care Foundation. Withers belongs to the Organization of Women Executives, the International Coach Federation and the California State Bar Association.
Withers received a Bachelor of Arts in Cultural Anthropology with highest honors from the University of Connecticut and a Juris Doctor from the UCLA School of Law. She has also pursued doctoral studies in anthropology on full fellowships from Yale University and the University of Rochester.