Explore This Section
Arlene Falk Withers
Glendale, CA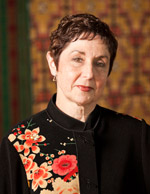 Arlene Withers was elected Chair of the Board October 2013 after serving serving two three-years terms of service, spending one year as Vice Chair.
As Chief Administrative and Legal Officer for the Motion Picture Industry Pension and Health Plans (MPIPHP), she administered and managed the provision of health care and retirement benefits to over 110,000 active and retired participants in the motion picture industry. Immediately prior to this, she was a principal of Eddy Associates, Inc., an executive coaching and outplacement consulting firm. She brings to Heifer's Board expertise in coaching and leadership development, as well as conflict prevention, management and resolution, among other skills. She is also an experienced, certified mediator.
Arlene has held positions including Vice President of Human Resources for Catholic Healthcare West, the largest nonprofit healthcare system in California; President of Transamerica Life Companies' Benefits Division, where she was responsible for a $6 billion annuity and long term care insurance business; and Senior Vice President of Human Resources, Vice President and Associate General Counsel and an employment attorney for Transamerica Life Companies. Early in her career she worked as an employment and labor attorney with a firm in Los Angeles, as Senior Counsel for MGM/UA Entertainment Co., and as Adjunct Professor at UCLA School of Law.
She has past and current experience serving on a variety of boards, committees and councils, and holding memberships in various national and regional organizations. She is past Vice President of California Women Lawyers and served for many years on the Board of the Women Lawyer's Association of Los Angeles. She is currently on the Board and chairs the Investment Committee of Fielding Graduate University, and is a member of several organizations including the Organization of Women Executives, the Professional Coaches and Mentors Association, and the California State Bar Association.
Arlene received a Bachelor of Arts in Cultural Anthropology with highest honors from the University of Connecticut and a Juris Doctor degree from the UCLA School of Law. She has also pursued doctoral studies in Anthropology on a full fellowship from Yale University and the University of Rochester.